Iraqi PM Nouri al-Maliki accepted the invitation sent by his Turkish counterpart Recep Tayyeb Erdogan to visit Turkey.
The president of the Turkish Foreign Relations Comm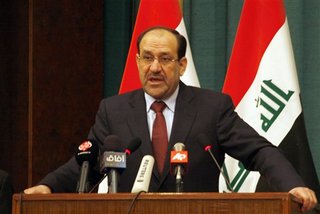 ittee, Vulcan Boscar declared that he carries an invitation from Turkish PM, Recep Tayyip Erdogan to Iraqi Prime Minister Nuri al-Maliki to visit Ankara. Boscar said in a joint press conference with the Chairman of the Foreign Relations Committee in the Iraqi House of Representatives, Homam Hamoudi in Baghdad, Iraqi media reported.
Hamoudi said: "The purpose of Bushker's visit to Iraq is to restore relations between the two countries to normal, and the cooperation and coordination between the two countries in order to maintain security and stability in the region and facing crises."
Nuri al-Maliki accepted the invitation of his Turkish counterpart Recep Tayyib Erdogan to visit Turkey, stressing bilateral cooperation between the two countries, Aswat al-Iraq reported.
The sources added that Iraqi foreign minister Hoshiar Zebari will visit Turkey this week, to be followed by another visit by Turkish foreign minister Hoshiar Zebari Ahmet Dawood Oglu to Iraq.
"This visit came at the invitation of me and in response to the visit of the Parliament Speaker, Osama al-Nujaifi to Ankara," Hamoudi said.
Nujaifi visited Ankara last September, in which he discussed the Middle East subject in general and Syria and the relations between Turkey and Iraq in particular.
Meanwhile Iraq's Deputy PM for Energy Hussain al-Shahristani discussed with Vulcan Bozakr" strengthen relations between the two countries and ways of solving problems as well as the outstanding issues regarding the smuggling of oil through Turkish border without the knowledge and consent of the Federal Government in Baghdad and the Ministry of Oil.
The relationship between Turkey and Iraq witnessed tension in the past because of the oil file in autonomous Kurdistan region and the subject of deporting the Iraqi Vice President, Tareq al-Hashemi.
Hamoudi added that the Turkish -Iraqi relations must go back to an earlier era and not to use it to" counter - terrorism ".
Of his part Boscar said "the next term will witness the Turkish parliament speaker's visit to Baghdad."
Last April Maliki said he would welcome rapprochement with Turkey, softening months of hostile rhetoric fuelled by Ankara's engagement with Iraq's autonomous Kurdistan region.
Turkish companies, backed by the government, are forging ahead with direct energy agreements with Iraq's autonomous Kurdistan region.
In the past five years, trade relations between Turkey and Iraqi Kurdistan have flourished. Analysts say 2013 could see the Iraqi Kurdish region become Turkey's second largest trading partner.
It's worth mentioning that in September 2012, Iraqi PM Maliki rejects Turkish PM Erdogan's invitation to visit Ankara.