Hezbollah Secretary General Sayyed Hasan Nasrallah stated Tuesday that the Iranian nuclear deal has had significant implications, expressing beliefs that the first winners are the peoples of our region.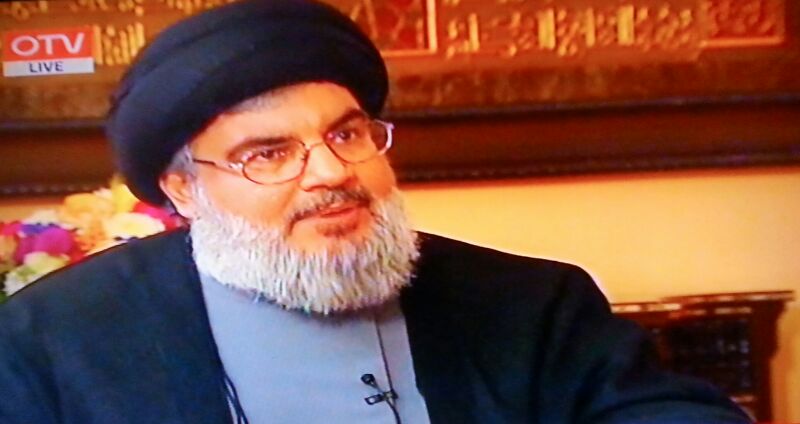 Hezbollah Secretary General Sayyed Hasan Nasrallah stated Tuesday that the Iranian nuclear deal has had significant implications, expressing beliefs that the first winners are the peoples of our region.
"There were regional and international parties during the past years, pushing towards war on Iran. This option is neither easy nor simple, because Iran is not a weak or isolated state. This option had serious implications on the region," Sayyed Nasrallah stated during a live interview on the local OTV channel.
"First implication was to delay the war on Iran," his eminence said, ruling out that the Zionist entity may strike the Iranian nuclear facilities without the American green light, while assuring that such a deal will not leave negative impacts on Lebanon or Syria.
Sayyed Nasrallah also pointed out that the Iran-P5+1 nuclear deal has devoted new reality of multi-polarization, where no single state is ruling the world anymore.
"Multi-polarization leadership in the world prevents international domination and dictatorship and gives margins for the third world countries," his eminence elaborated.
The U.S. Foreign Policy
Sayyed Nasrallah stated that there are huge turning points in the U.S. world policy, highlighting that even though the nuclear deal is interim, yet some people have rushed to say that it is a deal between the Valiye Faqih (Islamic Republic of Iran) and the great Satan (The United States).
"The US war on Iraq had doomed to failure. In Afghanistan, the U.S. reached a deadlock. In Lebanon and Gaza, the new Middle East also failed. They are failing so far in Syria. Iran has endured sanctions and they (the U.S.) were unable to topple the regime. On the contrary, the financial and economic situation in the U.S. and European countries is critical. Thus there is new U.S.-European situation," his eminence expressed.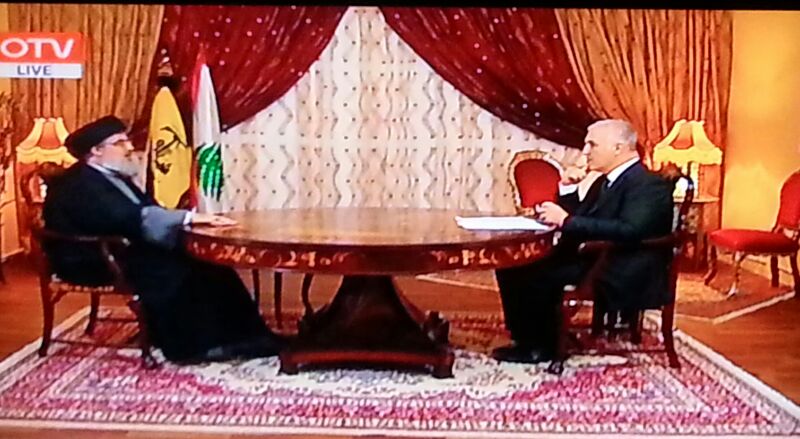 Justifying the American sponsorship for the Iran-P5+1 deal, Sayyed Nasrallah said that the Americans do not want to engage in a war, and they are sick of wars. Therefore, a door for nuclear deal has been opened and an interim deal was set.
"Americans requested to tackle more files while negotiating the nuclear issue, while Iranians wanted to tackle the nuclear file only. Iranians have no interest in putting all files on table and they insisted on negotiating the nuclear case alone," his eminence said.
Hezbollah Secretary General indicated that Iran has stated for long that its political view towards the U.S. differs from that towards the Zionist entity, and that's why the Iranian position on Israel is definite and has not changed.
"Iranians were saying that when the Americans admitted our rights and be ready to give the peoples of the region theirs', we will be ready then for dialogue with them," Sayyed Nasrallah made it clear.
"There is a U.S. shift but the Iranian party still stands in place. It is too early to taclk about normalization between the two countries and there are a lot of pending files. I don't predict near normalization," he added.
Regarding the Iranian Foreign Minister Mohammad Javad Zarif's last visit to the Gulf states, Sayyed Nasrallah said that Iran hasn't cut relations with neighbor countries ever, but the problem lies with the other party, noting that the Iranian FM wants to reassure the Saudis that nothing has been agreed upon against their interests.
The Saudi Arabia
Leader of the Lebanese Resistance of Hezbollah pointed out that Iran had sought to open doors with the Saudis, but all attempts doomed to failure and the Kingdom was closing all doors.
Sayyed Nasrallah revealed that a Pakistani initiative had been presented upon which Iran had agreed while the Saudis rejected it.
"Before the departure of Prince Nayef, Iranian security minister visited the Saudi Arabia and met him. The minister tried to create a mutual understanding, but the reaction was negative 100 per cent."
His eminence noted that since the beginning, the Saudi Arabia dealt with Iran as an enemy and Saddam Hussein's war on Iran was financed by the Saudis. Iraqi and Iranian peoples paid for that war as well as the Palestinian people and the Kuwaitis.
"Saudi war on Iran hasn't stopped since 1979. The Saudi party doesn't dare to launch direct war with anyone, but fights through proxies and pays for them in Syria, Iran, Iraq and Lebanon," he said.
Hezbollah leader highlighted that the problem between the Saudi Arabia and Iran is fundamental, noting that Prince Al-Walid Bin Talal's speech does not express the Sunni view. Saudis problem with Iran is not sectarian because they had problems with Egypt, Yemen and Syria before. Those countries do not adopt the Shiite sect.
"The Saudi Arabia does not accept any partner. It wants to make all Arab countries subordinate to it."
He also pointed out that "the Saudi intelligence is behind many of the bombings in Iraq, and operates some branches of al-Qaeda," expressing beliefs that the Abdullah Azzam Brigades are actually standing behind the bombing of the Iranian embassy in Beirut two weeks ago, revealing that Saudi Arabia supports such groups.
Hezbollah-Qatar Relations
Hezbollah Secretary General revealed that he received a Qatari delegation several days ago, and that Qatar may review its position and strategy regarding the region, noting that it has also offered good initiative regarding the Lebanese kidnapped in Aazaz.
Sayyed Nasrallah stressed that Hezbollah hasn't cause a problem for anyone, stating that the party of Resistance has always called for a political solution in Syria, and that a line of communication remained always between Hezbollah and Qatar, but both parties were of different political views.
Describing the new Hezbollah-Qatar relation, Sayyed Nasrallah said that the Lebanese party expressed the military option in Syria is not useful, and toppling the current situation is also useless, calling all states that affect events in Syria to work for a political solution.
"This is how we started to talk with Qatar, then we moved on to disassociating Lebanon from problems," his eminence said.
Hezbollah-Turkey Relations
"Our contacts with Turkey were not cut. Meetings with the Turkish ambassador to Lebanon were also held. Nothing new with our relations with Turks," Sayyed Nasrallah said.
However, his eminence expressed that following the Syrian developments, there has been a clear Turkish attempt to rearrange relations with Hezbollah because Turks think they have lost so much regarding their relations with Lebanon, President Bashar al-Assad and Iran, which were excellent before the Syrian crisis erupted.
"Now they are out of Syria, facing a great problem with Iraq, witnessing a cold and semi-break relation with Iran. The Turkish project in Syria has failed," he stressed, asking: "Where is Turkey now in Egypt and in the region?"
Iran in the Region
Iran's ideological position on Israel will not change, and its position on the Resistance will not change as well. In the Palestinian file , Iran also will not abandon its stance," his eminence noted, expressing beliefs that there is no horizon for the settling the Palestinian-Israeli issue because negotiations have not reached yet the minimal rights of Palestinians.
"Iran is a major regional state. It is the most influential in the region today. It consults with us and sometimes it may adopt our right in full. This is not only related to Lebanon," Sayyed Nasrallah unfolded, adding that If March 14 bloc relation with Saudi Arabia was like our relation with Iran, Lebanon would be problem-free. Iran does not interfere in our domestic affairs. It does not order us to participate in the cabinet. What Iran wants in Lebanon is that people understand each other and Lebanon wouldn't be dragged into war.
"I wish the other party has a Valiye Faqih," he said.
Hezbollah in Syria
Reviewing Hezbollah participation in the Syria, Hezbollah Secretary General stated that Hezbollah's position has been gradually evolved.
"When the Syrian events erupted, we kept silent for three weeks awaiting a clear view in order to know the nature of incidents. On the other side, when we were employing our good relations to avoid what happened, all Syrian opposition members, some Muslim Brotherhood leaders and some extremist parties threatened us even before we adopted our political position. Despite all that, we called for a political solution t avoid the military option," he said.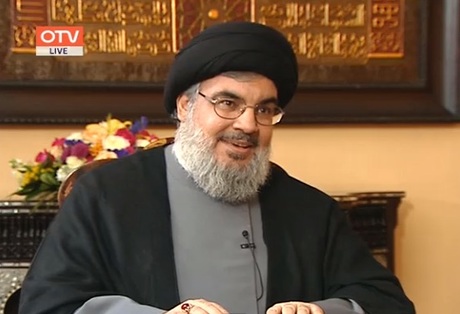 His eminence revealed the main cause behind the paty's intervention in southern Syrian town of al-Qussayr on the border with Lebanon, stating that Hezbollah "hadn't any direct call with opposition figures, but with states that had connection with them. President Assad was ready for dialogue and reforms while many in the region said that the matter would end within two or three months and that there would be no need for dialogue."
"There were countries in the region working on toppling the Syrian regime militarily without being ready for dialogue. Events in Syria had developed but we didn't intervene militarily. We didn't intervene in towns resided by Lebanese in al-Qussayr when the Syrian army was still deployed there," he added.
However, when the army was forced to leave the area, residents called for Hezbollah help to defend their towns because the Lebanese government didn't care for the Lebanese citizens there and kept the borders open for smuggling weapons to al-Qussayr from North and West Lebanon.
"We went to al-Qussayr in a pre-emptive operation. If we didn't take the initiative, armed groups would storm the Lebanese border towns," he stated.
Sayyed Nasrallah stated that "demolishing the holy shrine of Sayyed Zeinab (as) by the militants would ignite sedition in the region," adding that Hezbollah had sent only 40 to 50 fighters to the area to help in defending the shrine, stressing that "our increase in Syria was logical and realistic."
His eminence pointed out that Hezbollah didn't deploy fighters in other areas, but the situation had evolved gradually, noting that "tens of Lebanese have been killed in fighting for the militants in Syria."
"We (Hezbollah) declare our martyrs. We were in need for announcing our intervention because we don't feel shame of martyrs, but we are proud of them," Sayyed Nasrallah said.
He also made clear that his photo with Grand Ayatollah Sayyed Ali Khamenei was two years before Al-Qussayr combat, stressing that "Hezbollah didn't intervene in Syria according to an Iranian decision, but according to a self decision. What have been said about an Iranian demand for us to intervene is untrue."
His eminence pointed out that "if we abandoned our duty in al-Qussayr and Qalamoun, tens and hundreds of booby trapped cars would enter into Lebanon, and we had gone to Syria in order to avoid this thing," indicating that "the car which exploded in Lebanon had came from Yabrood through Arsal," wondering "what the future of Lebanon will be if Syria falls by armed groups?"
Sayyed Nasrallah also noted that "former Prime Minister Saad Hariri and MP Okaq Sakr are involved in sending fighters and weapons into Syria," stating: "Ask the other party what guarantees they will provide if the opposition wins?", adding that "the level of support in the Lebanese people to our intervention in Syria higher than the rate of support for resistance movements from 1982 to 1990."
"The day will come when we will be thanked for our intervention in Syria," Sayyed Nasrallah said.
His eminence said that "there are great exaggerations about Hezbollah intervention in Syria," explaining that "those who are fighting in Syria for the regime side are the Syrian army and the national defense forces formed from the people of the areas who are defending themselves," pointing out that "there isn't any Hezbollah fighter in the provinces of Daraa, Soweida', Qunitra, Deir Ezzor and the northern Aleppo.
"Our presence in Syria is limited in Damascus, Homs and the surrounding areas of Lebanon. We are located in al-Qussayr and Damascus.The Syrian army is carrying out the today's operations in Qalamoun along with the national defense forces."
Answering a question on the number of Hezbollah fighters deployed in Syria, Sayyed Nasrallah said that "some people in Lebanon say that 250 fighters of Hezbollah had been killed, and then some March 14 newspapers say that 600 fighters of Hezbollah killed in Ghota. These are their aspirations."
He also stressed that "none of Hezbollah fighters has been kidnapped in Syria, but bodies of the martyrs have been captured and we will not leave them," pointing out that "since the beginning of the events in Syria, number of martyrs did not reach 200 as they pretend according to the nature of the battle," expressing belief that "the threat fell," and that Hezbollah has martyrs less than the number his eminence was expecting.
Sayyed Nasrallah said he expects that other in this period major shift will occur in more than one area, but these attempts will fail, as happened in Ghota," adding that "someone is working to disable the Geneva II Conference."
Lebanon
Sayyed Nasrallah recalled that Hezbollah was the first to condemn the bombings of Tripoli, stating that on that day he was you sadder than the days of Ruwais and Bir al-Abed blasts, because it was clear that someone wants to drag the country into sedition."
Regarding the security situation in the northern Lebanese city of Tripoli, his eminence said that "what was reported on Mufti of Tripoli and the North Sheikh Malek Al-Shaa'r on the relationship between the gunmen with the security services is true", pointing out that "we know that the Directorate General of Internal Security Forces, and over the years, is paying money to armed groups and moving ammunition by cars of internal security forces during the last few years," adding that "the solution is that the state must hold the security situation in Tripoli and form a crisis cell. Tripoli and the North need dialogue and all the parties must meet."
Touching on the political scene in Lebanon, Sayyed Nasrallah pointed out that political choices and options of March 8 bloc are gaining, while that of March 14 are losing. We do not have a larger project for Lebanon, but we support a real partnership in Lebanon and with the participation of everyone."
His eminence made clear that Hezbollah believes in the Lebanese entity, calling upon Resistance lovers and audience to make no reaction in streets if anyone imitate him.
"If anyone has an objection, let us object judicially," he said, hoping that no one will insult us or insult others.