An overwhelming majority of Egyptians who voted on the country's new constitution backed the draft charter.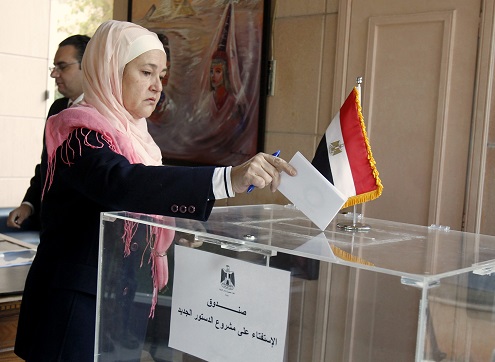 An overwhelming majority of Egyptians who voted on the country's new constitution backed the draft charter, a senior Egyptian official said Thursday, despite criticism from an international monitoring group of a clampdown on free speech ahead of the election.
The election official told The Associated Press that unofficial results after most of the ballots had been counted indicated that more than 90 percent voted "yes" on the constitution.
Nabil Salib, the head of the Supreme Election Committee, was quoted by the state news agency MENA as saying that ballots were still being counted and that final results would be announced in a few days.
He initially said the results were expected Friday. Results typically are announced within 72 hours after polls close in Egypt.
The vote held Tuesday and Wednesday was a milestone for Egypt's interim government, installed by the military after a July coup toppled Muslim Brotherhood President Mohammad Morsi, following mass protests demanding that he step down.
Egypt's interim Prime Minister Hazem el-Beblawi hailed those who voted for the constitution Thursday, saying: "Those who voted 'yes' were saying yes to building and saying no to all those who want destruction."
Many considered the vote as key to restoring stability and supporting the current government in the face of continued opposition and protests from Morsi supporters.
The draft constitution is a heavily amended version of a charter written by Morsi's allies and ratified in December 2012 with some 64 percent of the vote but with a nationwide turnout of just over 30 percent.
Morsi's Muslim Brotherhood group and other Islamist groups boycotted this week's referendum, calling it "illegitimate" and vowing to keep up protests.
The interim government is looking for a strong "yes" majority and large turnout to win undisputed legitimacy and perhaps a popular mandate for the military chief, Gen. Abdel-Fattah al-Sisi, to run for president later this year.
Following the referendum, Egypt's Interim President Adly Mansour is expected to announce a change in the army's transition plan and schedule presidential elections before the vote for the next parliament. This could give Egypt a new president before the summer.