Lebanese Parliament Speaker Nabih Berri arrived in Tehran on Monday following a trip to Kuwait over the weekend, where he spoke of the need to bolster the Lebanese Army in the wake of recent deadly bomb attacks across Lebanon
Lebanese Parliament Speaker Nabih Berri arrived in Tehran on Monday following a trip to Kuwait over the weekend, where he spoke of the need to bolster the Lebanese Army in the wake of recent deadl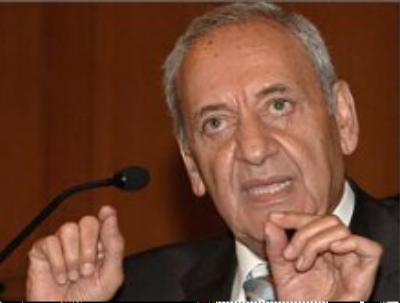 y bomb attacks across Lebanon.
"Today, I consider strengthening the Lebanese Army a national priority," Berri said from Kuwait.
He also expressed hope that the new Government announced by Prime Minister Tammam Salam Saturday would increase the number of military personnel.
"The truth is that all of Lebanon is a target – its Army, its resistance, its regions, its capital and its suburbs – and not just political figures," Berri said during a Sunday dinner held by the Lebanese ambassador in his honor.
Berri assured Lebanese living in Kuwait that Lebanon "will not fall," despite the threat of terrorism.
The Speaker said he hoped the Salam government – after winning a vote of confidence – would be prepared to face the challenges posed by terrorism, the influx of Syrian refugees and a deteriorating economy.