Hezbollah hails Palestinian reconciliation as Egyptian revolution's first fruit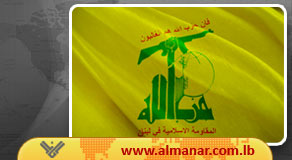 Hezbollah hailed on Friday the Egyptian-brokered reconciliation deal between Palestinian rival groups of Fatah and Hamas as the first fruit of the popular revolution expected to restore Egypt's natural position.
In a statement it released to comment on the steps of the Palestinian-Palestinian reconciliation, Hezbollah said it salutes any unification steps of forces targeted by the Zionist enemy. It expressed belief the steps of reconciliation between Hamas and Fatah are aimed at strengthening the Palestinian cause and consolidate the Resistance movement against the Zionist enemy.
Hezbollah pointed to the Zionist-American expressed dismay over the Palestinian achievement and said it constitutes a proof that it is the right step that would serve the Palestinian nation's struggle path to liberate its land from occupation.
The Resistance party also congratulated Egypt for brokering the deal and said such achievement is believed to be the first fruit of the popular revolution. It expressed hope this achievement would restore Egypt's natural position in adopting the nation's causes.