Syrian army units on Saturday inflicted terrorists heavy losses in several areas, killing and injuring scores of them and destroying their weapons.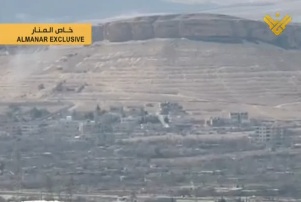 Syrian army units on Saturday inflicted terrorists heavy losses in several areas, killing and injuring scores of them and destroying their weapons.
In Yabroud city, units of the armed forces advanced further in Damascus Countryside from the northern and eastern sides, according to SANA reporter who noted that several terrorists' dens were destroyed and many of them were killed and injured in the process.
Al-Manar Website correspondent to Yabroud said that Syrian army advance in the city has accelerated, indicating that most crossings that connect Syria to Lebanon on Qalamoun side are now under the full control of the Syrian army.
"Syrian army has entered deeply into Yabroud amid clashes with light weapons," he said, noting that the national military is directly chasing Takfiri terrorists' positions in the city.
According to the reporter, the Syrian army also took control over the south eastern highlands, Mount Saint Maron and hills overlooking the city Yabroud.
Among the Takfiris killed on Saturday was Abu Azzam al-Kuwaiti, deputy leader of the so-called al-Nusra Front in Qalamoun city, who was leading the latest swap deal between his terrorist group and the Syrian government, which ended in liberating Maloula nuns on March 09, 2014.
The opposition UK-based Syrian Observatory for Human Rights confirmed the death of Kuwaiti.
Al-Alam TV field reporter Hussein Mortada stated that the Syrian army was monitoring Kuwaiti since weeks, along with Abu Malek - Al-Nusra Front commander. But to ensure the safety of the detained nuns, assassination was postponed until the swap deal is successfully done.
After the nuns gained freedom, a Syrian army unit infiltrated into the gathering point of Kuwaiti and Abu Malek, and planted the place with explosive devices. A huge blast occurred following the unit's withdrawal.
Soon after the bombing, Kuwaiti was killed along with scores of gunmen gathering inside, while Abu Malek was transferred to another place while infected with serious injuries in face and abdomen.
"His cry could be heard loudly," Mortada said citing field sources.
"Following the huge explosion, several members of al-Nusra Front tried to escape towards Rankoos and other nearby regions," Mortada added.
In Homs, thirty gunmen gave themselves up on Saturday to Syrian authorities in Jeb al-Jandali and Jouret al-Shiyyah in Homs city and in al-Hosrajiyeh village in Talkalakh countryside, Al-Manar TV correspondent reported.
Earlier on Friday, 43 gunmen from the neighborhoods of the old city of Homs surrendered and handed over their weapons to authorities, according to a source in the province.
In Aleppo, a military source told SANA that army units eliminated a number of terrorists in al-Marjeh and al-Ashrafiyeh neighborhoods in the city and destroyed their weapons and ammunition.
The source added that other army units destroyed armed terrorist groups' hideouts in the villages of Hilan, Andan, Erbid, the free zone, Talet al-Madafeh, Rasem al-Abboud, al-Jadideh, al-mansourah, Kafer Hamra, al-Shurfeh al-safra, Azan, Ebtin, Kwairis and surrounding Aleppo central prison, and destroyed their criminal tools.
In Hasakah, two girls were injured in the explosion of a bomb thrown by a terrorist gunmen on a house at the Vanguards neighborhood in the city.
A source at the Police Command in the province told SANA that the terrorist attack took place last night, causing material damage to the place.