LAF taskforce arrested last night eight Syrians in Arsal for illegal entrance into Lebanon. Some were driving unlicensed cars and motorcycles. All are suspected of belonging to terrorist organizations
Lebanese Army Apprehends 8 Syrians Suspected of Belonging to Nusra Group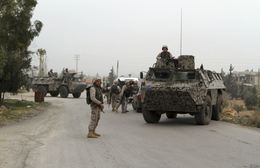 The LAF Orientation Directorate issued on Wednesday the following statement:

"A LAF taskforce arrested last night eight Syrians in Arsal for illegal entrance into Lebanon. Some were driving unlicensed cars and motorcycles. All are suspected of belonging to terrorist organizations.

The detainees were handed over to specialized authorities."

In a different context, the terrorist groups which are deployed on the outskirts of the eastern mountain range launched two rockets onto the area of Ra'es al-Mal in Hermel.