Lebanese Interior Minister Ziad Baroud announced on Thursday that he will no longer continue his ministerial duties.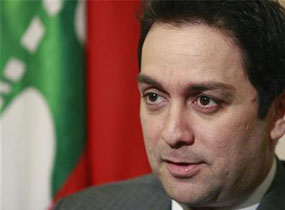 Resigned Interior Minister - Ziad Baroud
Lebanese Interior Minister Ziad Baroud announced on Thursday that he will no longer continue his ministerial duties.
"I do not accept that my authority over some directorates is to be just a legal text," Baroud said in the press conference held in the Ministry building.
"Since I no longer want to be a false witness or a caretaker minister with the duty to sign the ministry's mail, and since I don't want to violate the constitution despite any political stance, […] I free myself from [my duties]," he added.
Baroud added that he witnessed, along with the Lebanese people, the breakdown of the Lebanese state.
The interior minister also said that he tried for three years to serve the country, but added that there is no longer a reason to do so and that the constitution is being trespassed.
Baroud's resignation came after the developing events that occurred on Thursday between Telecommunications Minister Charbel Nahhas and the Internal Security Forces unit that banned him from entering one of his ministry's buildings. Baroud asked the personnel to leave the building, but his request remained unfulfilled.
However, a statement of the Directorate General of Lebanese Internal Security Forces clarified that it received a formal letter no. 5799/H from the general administration of Ogero, in which it demanded providing guard and security protection for the main center of the third cellular network, sited in the Adliya region, 2nd floor and granted from the Chinese government in accordance with the Cabinet's resolution No. 136/2007 of May 21, 2007.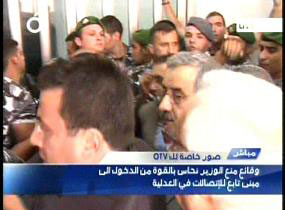 Minister of Communications prevented from
entering the floor with his security guards.
The resolution provided for charging Ogero of receiving and managing equipments, in order to maintain the integrity of installations and the associated network.
Minister of Communications arrived on Thursday at the building asking to allow staff from his Ministry to enter the second floor and work to dismantle and move equipment and supplies belonging to the third cellular network during and after office hours.
At the request of Nahhas to enter the said floor, he wasn't allowed to be accompanied by any security guards in accordance with the letter sent from Ogero to the Directorate General. The minister refused to enter and left the building immediately.
In this context, high-level sources revealed that the security operation in Adliya region aimed at covering up a wiretapping process carried out inside the Syrian territories.
Whereas other high-level sources in the new majority stated that the Lebanese President Micheal Souleiman is covering up corruption since he didn't back the Minister Baroud today.
The sources considered that what happened in the Interior Ministry on Thursday completely satisfies President Souleiman.