80 policemen martyred by armed gangs in northwest Syria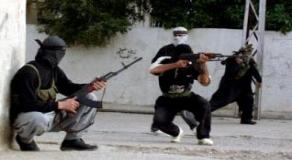 Eighty policemen were martyred by "armed gangs" in the northwest Syrian town of Jisr al-Shughour where security forces have been carrying out operations for three days, state television said on Monday.

"The armed groups are committing a veritable massacre. They have mutilated bodies and thrown others into the Assi river," the broadcaster said. "They have burned government buildings."
According to Syria's state news agency (SANA), the armed groups used machine guns, medium-sized weapons and hand grenades.
According to preliminary information, 20 security and police personnel were ambushed on their way to Jisr al-Shughour in response to a call for help from civilians who were terrorized and fled their homes towards police and security stations.
Eight other martyrs were guards of the post office and were killed when the office was bombed by the armed gangs using gas cylinder bombs.
SANA also said that security reinforcements were sent to the area where the ambush was set, adding that security forces and police are surrounding some houses in which the armed men are hiding and firing on soldiers and villains.
The armed groups attacked a security post in Jisr al-Shughour where many civilians sheltered from the groups who terrorized civilians and vandalized public and private properties. The groups positioned on rooftops and opened fire on civilians, policemen and security forces.
SANA said that the groups committed a real massacre, adding that they mutilated some bodies and threw others in the Orontes River.
The Syrian news agency also reported that intense clashes took place between center's personnel and these groups, adding that the groups are using medium-sized weapons, machineguns, hand grenades and rocket-propelled grenades (RPG).
SANA quoted an official security source as saying that police and security forces are confronting hundreds of armed members who temporarily controlled some neighborhoods, and lifted the siege imposed on one of the neighborhoods. The source added that clashes are taking place between the police and security force on one hand and the armed gangs on the other.