NATO on Thursday opened a training center in Georgia amid tensions with Russia.
NATO on Thursday opened a training center in Georgia amid tensions with Russia.
The establishment of the NATO-Georgian Joint Training and Evaluation Center, to be based just outside the capital Tbilisi, is part of the confrontation between the western countries represented by the NATO states and Russia.
The coalition says the establishment of the center is aimed at buttressing the ex-Soviet country which fought a five-day war with Russia in 2008.
"There is more Georgia in NATO and more NATO in Georgia," NATO Secretary General Jens Stoltenberg said at a news conference alongside Georgian Prime Minister Irakli Garibashvili before the opening ceremony.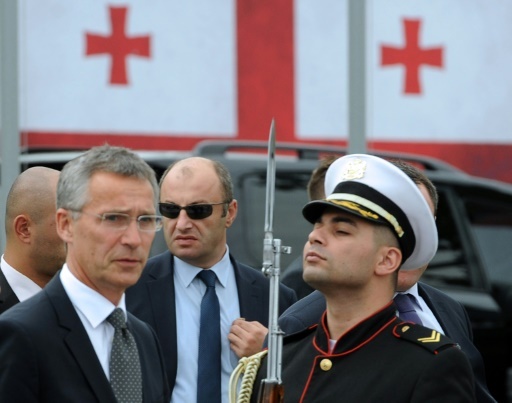 Stoltenberg, who arrived in Tbilisi on Wednesday, said thatboth Georgian and NATO troops would be trained at the center.
"This center will help Georgia to continue making its armed forces more modern and more capable of meeting 21st century challenges," Stoltenberg said at the opening ceremony in the Krtsanisi National Training Center outside Tbilisi.
"It will be equally important in training allied and partner troops," he said in the presence of Georgia's prime minister, president and top officials.
Prime Minister Garibashvili stressed for his part that the center would increase regional stability and was not directed "against any neighboring countries."
Predictably, Russia slammed the move as a provocation.
"We deem this step as the continuation of the alliance's provocative policies aimed at expanding its geopolitical influence," Russian foreign ministry spokeswoman Maria Zakharova told reporters.
Georgia has long sought full NATO membership and hopes to be invited to join a Membership Action Plan (MAP), a formal step towards membership, at a NATO summit in Warsaw next year.
But analysts doubt that NATO will grant the small South Caucasus country the membership plan in 2016. Stoltenberg sounded non-committal Thursday.