French president Francois Hollande and accompanying delegation arrived in Beirut, moving to Nijmeh Square to be formally welcomed by the Parliament Speaker Nabih Berri.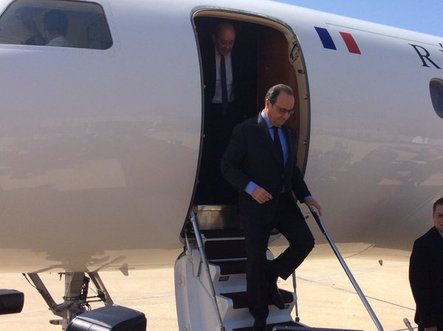 French president Francois Hollande and accompanying delegation arrived in Beirut on Saturday, moving to Nijmeh Square to be formally welcomed by the Parliament Speaker Nabih Berri.
We stand by Lebanon face to face to brave the crisis, visiting French president Francois Hollande, stressed upon seeing House Speaker Nabih Berri at the parliament building today.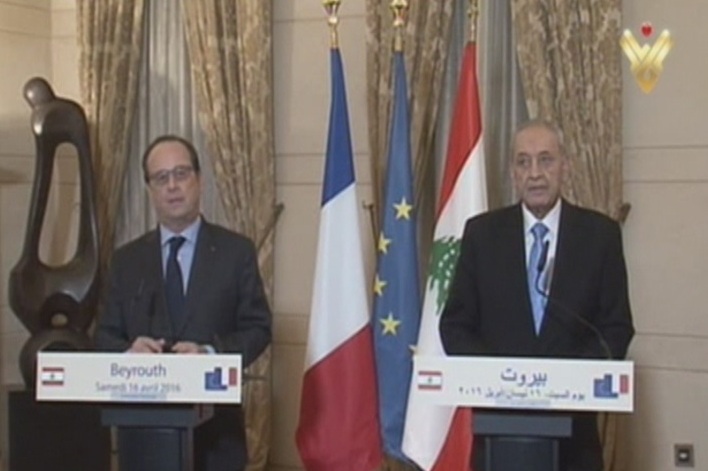 As we seek to consolidate Lebanon's stability and security, we've discussed among other things a French strategic donation to the armed forces, delineating Lebanon's littoral territorial limits amid venues explored for dealing with the issue of the refugees and the displaced, Speaker Berri retorted. Also stressing need for confronting terrorism, the Speaker said that apparent anxiety is reflected in the deep desire to hold a reception for president Hollande at Baabda palace.

France for its part, wishes to boost Lebanese security through direct bilateral military cooperation noting Lebanon's anti-terrorism frontal struggle let alone its hosting of over than a million and the half refugees, president Hollande retorted. In view of the humanitarian ties binding Lebanon and France as well as enjoying economic vitality, we pledge to lend all financial and economic assistance due to Lebanon's banking system, he reassured the Speaker.


Hollande then moved to Gran Serail to meet PM Tammam Salam.
In a joint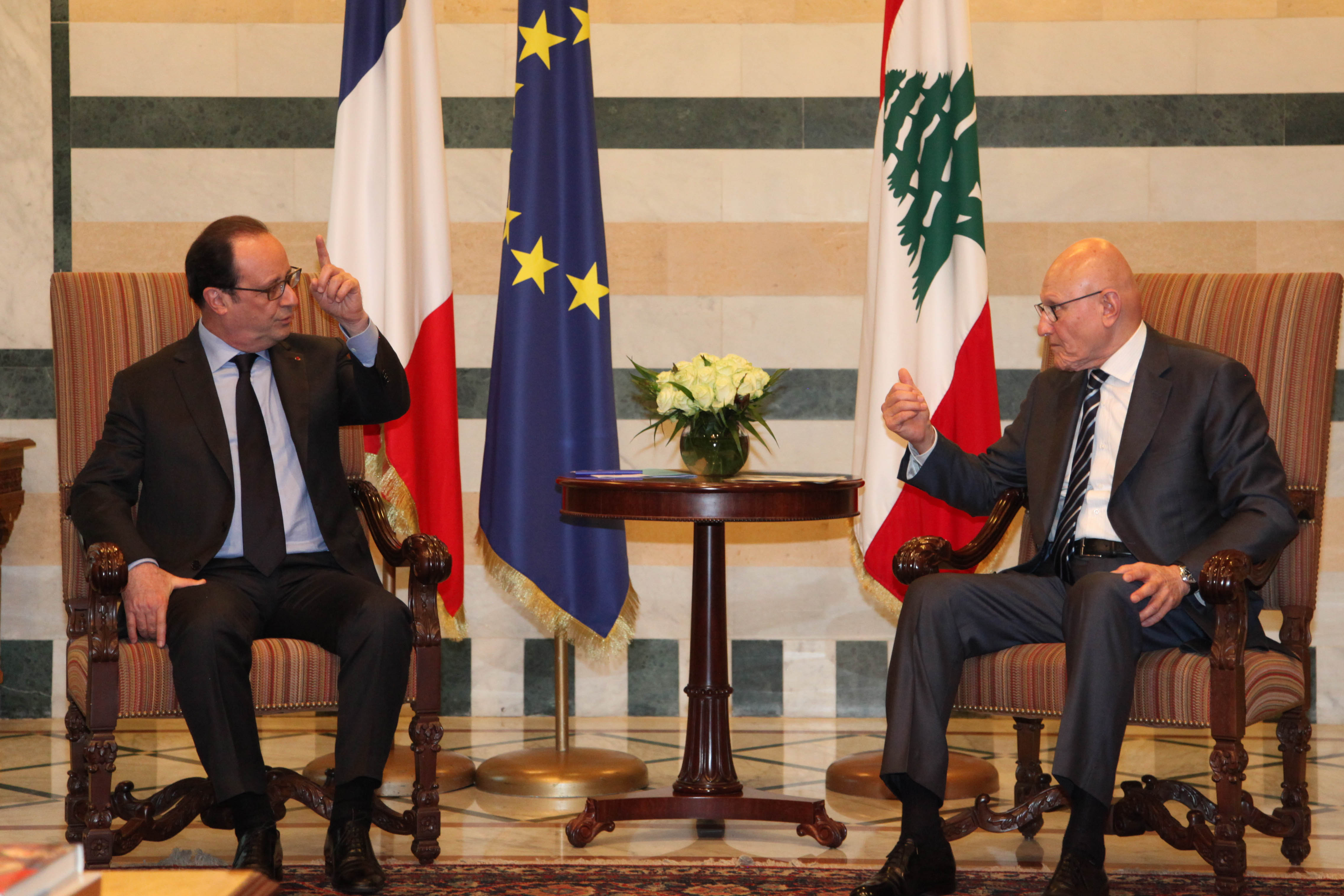 press conference held following their meeting at the Grand Serail on Saturday, Prime Minister Tammam Salam and French President Francois Hollande outlined the main points tackled during their discussions, whereby Hollande declared that "France's aid to refugees in Lebanon shall reach 50 million Euros in 2016 and 100 million Euros within the upcoming three years."

Hollande praised the "Lebanese-French friendship relations," stressing that his country stands by Lebanon, in light of the historical ties, geographic proximity and the cultural and linguistic aspects.

He expressed deep respect for the courageous role played by PM Salam "in confronting various internal challenges despite the extraordinary circumstances witnessed in neighboring countries like Syria and Iraq, especially in providing shelter to a huge number of refugees amidst the current presidential vacuum.

"France is keen on preserving Lebanon's security," said Hollande, adding that "peace in the Middle East is that of France and the world at large, and we will work to provide immediate assistance to enhance the security capabilities of Lebanon against any threat in the coming days."

He stressed his concern "for the safety of Lebanon, its unity and sovereignty," adding that "it is the responsibility of France towards Lebanon today to urge the international community to help in the refugee crisis, for Lebanon needs to be strengthened and developed."

PM Salam, in turn, hoped that "France will resume efforts to push for the election of a new Lebanese President the soonest possible," while quoting the French President's commitment to "maintaining security and stability in Lebanon."

He also expressed his appreciation towards Hollande's "keenness on visiting Lebanon despite the current prevailing conditions in the region."

Salam indicated that the meeting was a chance to "have an in-depth discussion about the consequences of the Syrian refugees' dossier and ways in which France can contribute, both directly and via international forums, to assist Lebanon in carrying such a huge burden."