Tens of thousands of flag-waving Palestinians celebrate historic victory with crowds exhorting resistance heroes to capture more Israeli soldiers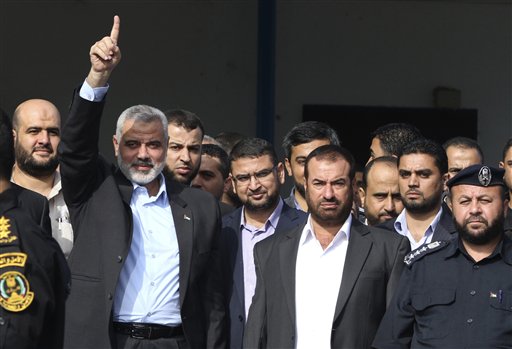 Tens of thousands of flag-waving Palestinians celebrated the historic victory that saw the freedom of more than a thousand Palestinian detainees, the heaviest price Israel has ever paid for one soldier, with the crowds exhorting resistance heroes to capture more Israeli soldiers for future swaps.

Hamas movement organized the central ceremony to mark the swap deal in central Gaza. The joyous crowd crammed into a sandy lot, where a huge stage was set up, decorated with a mural depicting the capture of Shalit at an army base near the Gaza border. "The people want a new Gilad!" the crowd chanted.

Hamas Prime Minister Ismail Haniyeh addressed the crowds, and said that this deal is a source of pride for the Palestinian people. "This deal is not only for the residents of Gaza. It included the West Bank, Gaza, Jerusalem, the 1948 lands and even the Golan Heights. This deal outlined Palestine's roadmap anew and sent a message that the borders of Palestine are the borders of the deal," he said.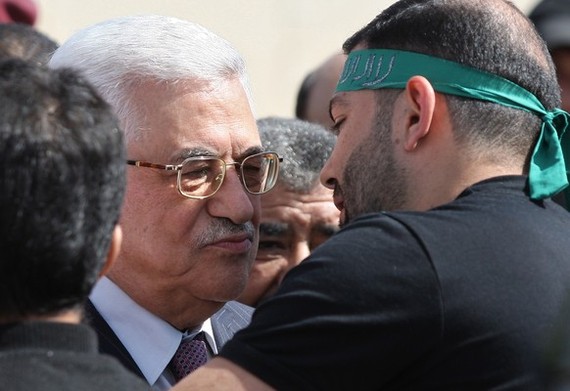 In the West Bank, Palestinian President Mahmud Abbas addressed a crowd of several thousand - praising the released prisoners as "freedom fighters". He shared a stage with three Hamas leaders in a display of national unity. At one point, the four men raised clasped hands in triumph. Friends and family members wept tears of joy for the released prisoners.

"We thank God for your return and your safety," Abbas said, greeting the prisoners. "You are freedom fighters and holy warriors for the sake of God and the homeland," he added. "We hope soon to see Marwan Barghouti and Ahmed Saadat, as well as every prisoner freed," Abbas told the thousands of cheering supporters and relatives, referring to two high-profile prisoners who Israel had refused to release.

For his part, Hassan Youssef, a senior member of the Hamas group, said the deal "gives the Palestinians hope that more prisoners can be released."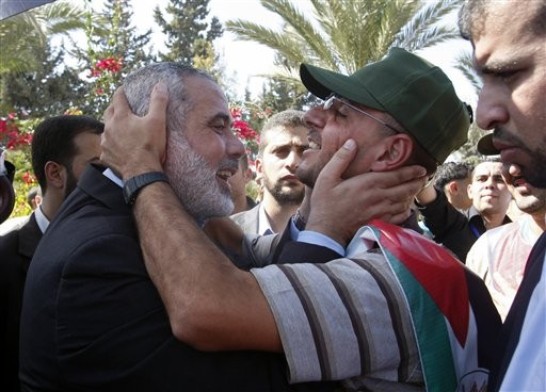 The road from the Egyptian border with Egypt was turned into a military zone and sealed off. Patriotic songs blared from loudspeakers as prisoners arrived to a heroes' welcome at the Rafah crossing. Some kissed the soil as they arrived. Some were carried on the shoulders of happy relatives. Women ululated and men chanted Allahu akbar [God is greatest].

Hamas leader in Gaza, Ismail Haniyeh, joined scores of officials to greet freed prisoners coming in from Egypt, along with hundreds of family members impatient for the big reunion. Haniyeh kissed their foreheads, paying special respect to Yehya Al-Sinwar, a top Hamas security strategist who spent 23 years in jail, and his deputy Rawhi Mushtaha who was also serving a life sentence. "Thank you to the forces of the resistance for returning us as liberated heroes," said one prisoner.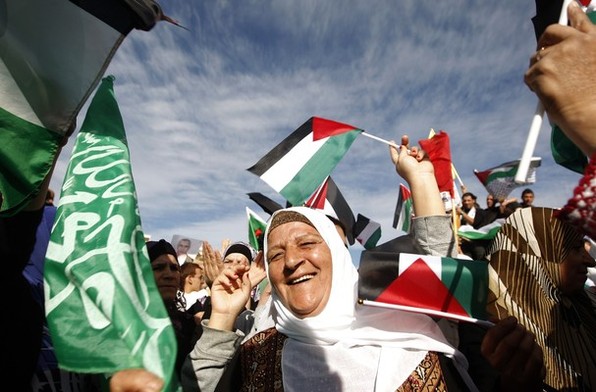 Meanwhile, Egyptian Prime Minister Essam Sharaf hailed the deal as part of efforts to boost regional stability. He "stressed that Egypt's efforts, which contributed to the success of the prisoner exchange deal, come as part of (its) support of efforts for stability and security in the region," in a statement on his Facebook page. The premier stressed that these objectives "will be achieved through a just and comprehensive solution to the Palestinian question."

Arab League secretary general Nabil al-Arabi welcomed Tuesday's release of the Palestinian prisoners and called for all those who are still in jail to be freed. He called for "the release of all Palestinian and Arab prisoners and detainees who are still held by Israeli occupation forces".

"There are prisoners who have spent more than 30 years in jail, living in harsh and inhumane conditions, some of whom have not been on trial, in a blatant violation of all the rules of international humanitarian law," he said.