Sixteen Palestinian prisoners arrived in Damascus on Wednesday after being released as part of the swap deal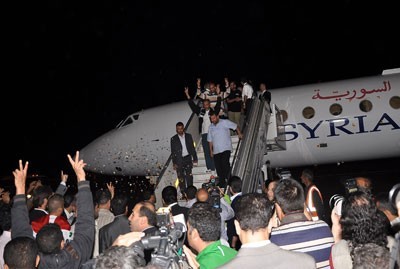 Sixteen Palestinian prisoners arrived in Damascus on Wednesday after being released on Tuesday as part of a swap deal in exchange for Israeli soldier Gilad Shalit.
Fifteen men and one woman, Amna Muna, walked down the steps of an aircraft at Damascus airport to be welcomed by Hamas officials. Muna, an activist from the West Bank, was jailed for life for being responsible for killing an Israeli in 2001.
Muna said the joy of leaving prison was tempered by a future living in exile. "I lived seven years in prison and today is a happy day but not completely because we are away from our home and we left prisoners who are suffering from the detention. Sure it is my second home (Syria) but there is nothing such as the land you were born and grew up in," Muna said.
Under the terms of the deal, around 40 of those who had been jailed for involvement in deadly attacks were being deported abroad. Turkey confirmed it would take in around 10, while others were destined for Syria and Qatar.
Hundreds of Palestinians crossed Israel's borders on Tuesday as the thousand-for-one prisoner swap brought joy to families.
"The resistance is increasing and there are steps for the future. The resistance will continue until the victory, God willing," said one of the released men, Nimer Darwaze, according to Maan news agency.
"We dedicate the best greetings to the martyrs who were the reason in capturing the soldier. We send our greetings to the negotiators who succeeded and earned a lot. This is a great accomplishment," another former prisoner, Motassim Mawdidi said.
He said the conditions for Palestinian prisoners in Israeli jails were harsh. "The prisoners are suffering from the worst conditions in the occupation's prisons. The occupation creates every day new ways to torture and humiliate the prisoners. But, thank God, the prisoners are strong and they will not give up."
After the 477 freed on Tuesday, a further 550 Palestinians will be released soon.