Appearance.. a symptom of moving away
As Libya was stained with the blood of its revolutionists martyrs, the national Libyan television broadcasted Gaddafi addressing a rambling speech, in which he refused to step down, claiming himself as the head of the revolution and that he had no official position from which to resign.

Gaddafi speech came on Tuesday evening, after a bloodbath spreaded over libyan cities. The place of speech was unknown.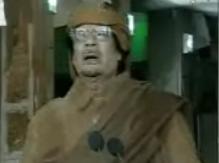 Moamer Gaddafi threatens:
execution is the punishment
"I would die as a "martyr" on the land of my ancestors and fight to the last bullet," the hardheaded Gaddafi said, standing against the backdrop of what looked like a damaged building.
Proclaiming the people to be supporting him, Gaddafi ordered Libyan army and police to crush the popular uprising against his four-decade rule, which rights groups say have left hundreds dead in the past eight days.
"I will purge Libya 'house by house' to crush revolt," he stated.
"This is my country, my country," he shouted in his angry speech, denying that the victims of fighting that has swept the country were young people, despite of accusing his forces by various sources of killing demonstrators indiscriminately, even using heavy calibre weapons.
"Capture the rats," he said of anti-regime demonstrators.
In the speech, Gaddafi claimed that he didn't use violence uptill now. "If I wanted to use weapons against you (the revolutionists), the hole country would be burnt," he threatened.
His dramatic intervention came as he fought to become the third Arab veteran leader to be toppled in a popular uprising, after the presidents of neighbouring Egypt and Tunisia were both ousted.
His speech came after both the UN Security Council and Arab League called emergency meetings.
Germany also demanded that the Security Council take "swift and clear" action on the crisis, as the meeting opened in New York.
Many other countries across the world had called upon Gaddafi to withdraw, namely US, Britain, European Union,and many others.
France, Britain, Germany, Egypt and Turkey scrambled Tuesday to evacuate citizens caught up in the unrest spreading across Libya, sending military planes and ferries to the north African state.
Gaddafi, after more than four decades in power, was also confronted by mounting defections in Libya's diplomatic corps and the air force after it was allegedly ordered to attack civilians.