... On the Bahraini level, Qatar foreign minister indicated that barely 3 or 4 people were killed in Bahrain and that the king dealt positively with the protests and started with reforms.
Qatari Prime Minister Sheikh Hamad Bin Jassem Al-Thani told reporters that 19 out of 22 Arab League members have voted for the sanctions against Syria, which include ending cooperation with the Syrian Central Bank, stopping trade with Syria except of foodstuffs, and banning prominent Syrian regime officials from travelling to Arab countries as well as freezing their accounts there."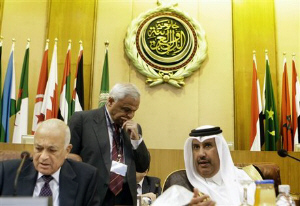 "Iraq had abstained from the vote, and said it will not take part in implementing the sanctions, while Lebanon disassociated itself from the decision," Al-Thani said.
As this is the first time the Arab League approves economic sanctions on a member state, the Qatari Foreign Minister responded to journalists' questions on the reason for not taking similar steps against Yemen and Bahrain, explaining that it is better to start by dealing with the Syrian situation than not making any move.
On the Bahraini level, Al-Thani indicated that barely three or four people were killed in Bahrain and that no action should be taken against the regime because the king has dealt positively with the protests and has started with reforms.
Regarding the weak Arab League stance against Israel's violence in Gaza, Al-Thani assured that the Arab stance in support of Gaza has not been an honorable one, pointing out that the Arab League has the power to take action against the "violence in Syria" as Syria is a member state, but does not have the power to take similar action against Israel.
Responding to a question on Syrian Foreign Minister, Walid Al-Moallem's accusation to the Arab League that it seeks to force international interference in Syria, Al-Thani stated: "What we have done was to avoid a foreign solution."
"If we do not act seriously, I could not guarantee that there will not be foreign interference… we only care that the Syrian government understands that there is an Arab stance that aims at solving the crisis is a short time," he added.