Despite the establishment of stale orientalist campaigns, created in the name of women's liberation in the Middle East and North Africa, the existence of enduring, self-sufficient women in the region has far-reaching historical context
By Roqayah Chamseddine
Despite the establishment of stale orientalist campaigns, created in the name of women's liberation in the Middle East and North Africa, the existence of enduring, self-sufficient women in the region has far-reaching historical context. The search for female Middle East voices amongst pundits in the mainstream media echoes the same tired "Palestinian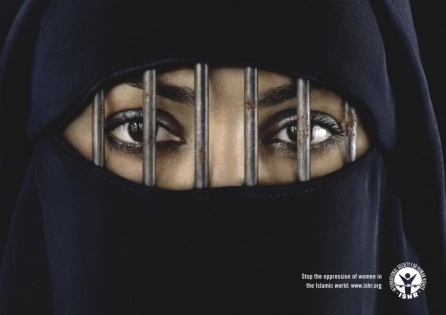 Gandhi" aphorism; analysts have long used Laurence of Arabia-esque exoticism as a means to portray the women of the Arab world, in that if they are not subservient housewives they are coy and reserved daughters, sheltered and locked away by the domineering male figures in the household. These conjectures are not false in their entirety, but they are also not subjective as to one specific region, culture, religion or people.
The pervasive Western tradition of characterizing an entire community by certain traits, which their Western audiences can ooh and ahh at, has helped manufacture a plethora of distortions. History confirms that Arab women have long played an active political role in their societies; from Egyptian women who demonstrated alongside men during the Egyptian Revolution of 1919, against British occupation of Egypt and Sudan, to resistance fighter Jamila Bu Hreid of Algeria, who was nearly tortured to death by French occupation forces during the Algerian revolution and independence movement, lasting from 1954 to 1962, which resulted in Algeria gaining its independence from France. South Lebanon, liberated in 2000 after nearly 22 years of Israeli occupation, was also home to female political action. Lebanese women would quietly supply resistance fighters with ammunition, often times wrapping them across their stomachs before passing through Israeli checkpoints unnoticed.
As of late, the women of the Arab world are being actively pursued by journalists, media figures and political commentators as sort of stock characters to be featured in their next editorial or television broadcast. Those usually courted by the media are there to reassert orientalist theories; for a Western audience to relish in sheer amusement, because for many an outspoken and visible Arab woman is an alluring token.
This has much to do with the current state of the Middle East and North Africa, specifically the uprisings that have captured the hearts and minds of many from across much of world. Prior to the deposing of Tunisia's Zine El Abidine Ben Ali there was little to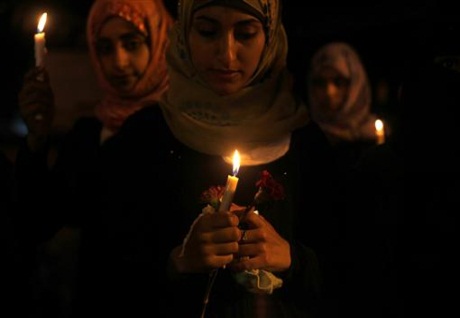 no media attention given to Arab women in respect to what role they played in the region, besides being propagandized as second-class to their more aggressive male counterparts. Although the media claims to be on a scavenger-hunt of sorts, in search of the dauntless women of the Middle East, there has always been little talk of female Palestinian heroins and their struggle against Israel's brutal system of apartheid and occupation of their native land.
The Palestinian village of Bil'in has hosted non-violent demonstrations weekly against the occupation of their land since 2005. For nearly 7 years an assemblage of men and women courageously face Israeli Forces in order to prevent further usurpation of their villages, the destruction of their resources and the subjugation of their people. Jawaher Abu Rahmah, one of many female Palestinian protesters, was killed by Israeli Forces after inhaling extensive amounts of tear-gas during a non-violent demonstration in Bil'in in 2011; she suffered from severe asphyxiation and poisoning caused by ingredients in the tear-gas. Abu Rahmah's brother Bassem was killed in 2009 after a tear-gas canister was fired at his chest by an Israeli soldier during a similar non-violent village demonstration.
Hana Shalabi, a 30 year old Palestinian woman from Jenin, is currently on a hunger-strike, protesting her administrative detainment without charge by the state of Israel:
"Hana Shalabi was released from over two years in administrative detention on 18 October 2011, as part of the prisoner exchange deal concluded by the Israeli government and Hamas, whereby 1,027 Palestinian political prisoners were released in exchange for captured Israeli soldier Gilad Shalit. Hana was re-arrested less than four months later on 16 February 2012, and immediately began a hunger strike in protest of her detention."
Addameer, Prisoner Support and Human Rights Association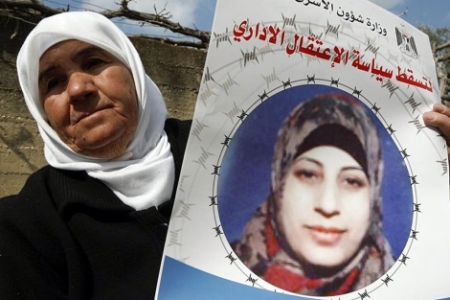 Shalabi has been subjected to beatings and humiliating treatment by Israeli Forces and despite having had her detention recently reduced from 6 months to four months since beginning her hunger-strike some 20 days ago she has declared that her hunger-strike will continue until her demand for freedom is met.
The archetypal Arab women most often approved of, for the viewing pleasure of television audiences, is one which is confined to a subservient role; a coy, bashful creature who's raison d'être is based off of approval from a domineering male society. This decayed misconception attempts to brand every aspect of Middle Eastern and North African society as being a homogeneous Disney caricature has long been refuted by those much like Hana Shalabi and Jawaher Abu Rahmah, and a great number of other women who are deliberately ignored by the mainstream media.
Women of the Middle East and North Africa are of compelling strength, doubtless courage and incorruptible dignity and history is laden with prominent female activists, poets, authors and political figures from this region who have have long existed, despite the deliberate evasion of their stories and in the printing their names; and they will continue to exist.