The Syrian army has overrun Syria's northwestern city of idlib, with militants have fled following four days of clashes.
The Syrian army has overrun Syria's northwestern city of idlib, with militants have fled following four days of clashes.
Meanehile, the opposition has also suffered a setback as three major figures of the so-called Syrian National Council (SNC) announced resignation.
Agence France Press cited the "activist" Noureddin al-Abdo as saying that the militants have withdrawn.

"Since last night there has been no more fighting," said al-Abdo, reached by telephone from Beirut.
"The Free Syrian Army (FSA) has withdrawn and regime forces have stormed the entire city and are carrying out house-to-house searches."

"The FSA preferred to withdraw because everyone knows it cannot resist the army," Abdo said.

For its part, Syrian daily al-Watan reported on Tuesday that the city has fallen, saying regime forces had managed to capture it in record time.
"A major operation launched three days ago in Idlib... ended in record time with army units wrapping up search operations during which dozens of armed men and fugitives were killed," Al-Watan daily said.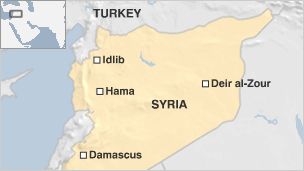 The time in which Idlib has been controlled is considered a record since the city reportedly contains huge number of militants and ammunitions.

The control of Idlib comes just twi weeks after the seize of Baba Amro neighborhood in the city of Homs.
RESIGNATIONS
Meanwhile on Wednesday, the opposition was hit by resignations, with three prominent activists from the SNC announcing their demission.

Catherine al-Telli, Haitham al-Maleh and Kamal al-Labwani announced on their Facebook pages that they were resigning due to differences" and the "inefficiency" of the SNC.
Agence France Press quoted an official with the SNC that the there were "disagreements" between the activists and the council.

Maleh said he was quitting after the council's executive had rejected his efforts to reform and unite opposition ranks, complaining its head Burhan Ghalioun was "monopolising opinion."
"All avenues for change have been blocked," protested Labwani.
ASSAD REPLIES TO ANNAN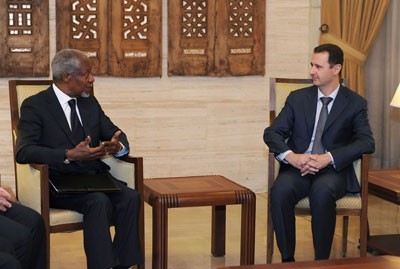 On the other hand, President Bashar Assad responded to the proposals handed by UN-Arab League envoy Kofi Annan, who met the Syrian leader during the weekend.

"Their responses are being considered," Ahmad Fawzi, spokesman for the envoy, told AFP, declining to comment on the substance of the Syrian response.

Annan is expected to make a statement later Wednesday in Geneva, after he said on Sunday that he offered "concrete proposals" to Assad.

During the meeting with Annan, Assad said he would back any "honest" bid to end the violence, but warned dialogue would fail if "terrorist groups" remained.