"We are protecting civilians. We are unarmed. We are no threat to you. Please do not shoot."
"We are protecting civilians. We are unarmed. We are no threat to you. Please do not shoot."
Rachel Corrie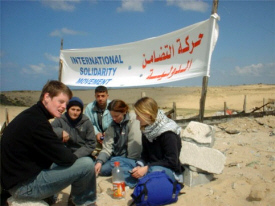 On March 16, 2003, in the town of Rafah in southern Gaza, an "international peace protester," dropped to her knees in front of an Israeli bulldozer. She expected it to stop, but it kept moving, trapping her under its tracks.
For those who don't recall, Rachel Corrie was a 23-year-old American peace activist killed in 2003 while attempting to block a Zionist military bulldozer. Corrie arrived in the occupied territories as part of an independent study program during her senior year at Evergreen State College. It was there that Corrie first heard of going to Gaza with the International Solidarity Movement (ISM) amid the height of the second intifada.
"Sometimes I sit down to dinner with people and I realize there is a massive military machine surrounding us, trying to kill the people I'm having dinner with."
Rachel Corrie
During her stay in Gaza, Corrie offered assistance to the Palestinian families and children of Gaza. Her life ended when she tried, along with her colleagues, to prevent the razing of Dr. Samir Nasrallah's house, acting as human shields against the 'Israeli' tanks and bulldozers clearing a security zone around the border. Almost every other structure in the area had been knocked down in recent months.
On that day, March 16, two 'Israeli' occupation army bulldozers and a tank were present in the place. For a period of two hours, the activists played 'cat and mouse', attempting to prevent the illegal demolitions by physically blocking the passage of the two bulldozers.
"Follow your dreams, believe in yourself and don't give up."
Rachel Corrie
On that day, Corrie was able to get away from the criminal bulldozer. Yet, she refused to allow that huge body to swallow memories of a whole family. She decided to sacrifice her body for others' survival.
Rachel Corrie suffered the moment her blood was mixed with the soil of Gaza. She felt the buried dreams of the Palestinians killed in Rafah and families displaced.
After all, Rachel Corrie murdered for her sins, she was pro-humanity activist !!