The Lebanese army intelligence has seized on Monday night a large quantity of weapons hidden inside cars aboard an Italian ship at Tripoli port, north of Lebanon, Lebanese security sources told Al-Manar TV
The Lebanese army intelligence has seized on Monday night a large quantity of wea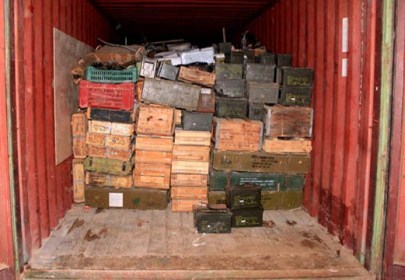 pons hidden inside cars aboard an Italian ship at Tripoli port, north of Lebanon, Lebanese security sources told Al-Manar TV.

The security sources revealed the involvement of Lebanese parties in the smuggling of weapons seized in the port of Tripoli.
As Safir daily said the ship docked in Tripoli port coming from the Egyptian port of Alexandria en route from Germany, adding that the army moved the car to al-Qubbeh base and launched a probe. "The two Rapid cars were imported by the agent A. M," it said.
The daily reported that one of the cars contained 15 boxes of ammunition each containing 1,000 bullets used for different kinds of machineguns. It added that the ammunition was for 9 mm and 12.7 mm machine guns and Kalashnikovs bullets.

This comes just days after the Lebanese Army Marines confiscated Lutfallah II arms shipment off the Lebanese port of Batoun while it was carrying 300,000 pounds of weapons within three containers. Reports said the cargo ship, which was flying the flag of Sierra-Leone, had left Libya and was bound to Syria.
The Lebanese judicial authorities were continuing their investigations with the detainees to unfold the direction of the ship, and the party that stands behind the load of weapons that were on board. An official arrest warrant was issued against one of the suspects.