Israeli Foreign Minister Avigdor Lieberman incites West against Syrian and Iran, says they pose greater security threat than Libya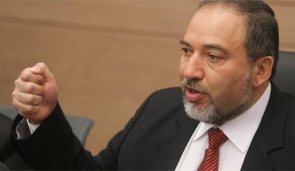 Israel's foreign minister Avigdor Lieberman claimed on Thursday that Iran and Syria pose a greater security threat than Libya and incited the West to deal with those countries like it's dealing with the Libyan government of Moammar Gaddafi.
In a brief interview with Reuters after meeting his French counterpart, Alain Juppe, Lieberman did not explicitly call for military action against Syria and Iran, but said what goes for Libya goes for them. "These two regimes kill more citizens than the Libyan regime does, and the threat from these countries is much more serious than that from Libya," Lieberman claimed.
Lieberman also called the recent upsurge of violence in the Gaza strip a direct result of "incitement" on the Palestinian side. "I see a lot of efforts in the Palestinian Authority for reconciliation with Hamas and Islamic Jihad, but I don't see any readiness for direct talks with Israel," he said. "It is totally unacceptable."
Lieberman said Israel was ready for direct talks with the Palestinians despite the current status quo. "I believe any change in the peace process must be as a result of direct talks and not unilateral steps and not as a unilateral decision even of the international community," he said.