Hezbollah Secretary General Sayyed Hasan Nasrallah stressed that "Israelis have been surprised by the steadfastness of Resistance in Gaza".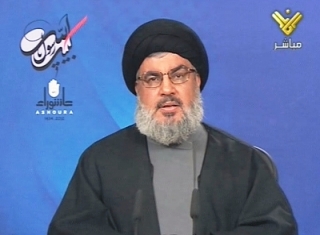 Hezbollah Secretary General Sayyed Hasan Nasrallah stressed on Saturday that "Israelis have been surprised by the steadfastness and reactions of Resistance in Gaza", noting that the enemy's talk on a ground operation in the strip is closer to the hype than to reality.
During his speech on the third night of Ashoura in Sayyed Al-Shuhadaa complex in the southern suburb of Beirut, Sayyed Nasrallah said that "Resistance reflects a great presentation of its steadfastness, wisdom, courage and ability to fight, along with its surrounding environment, which all represent today the most important elements of power: the action of resistance, the people of resistance and the support this people express towards the resistance."
"People of Gaza possessing those elements will impose the situation on their enemy, on their friend and on every single man," his eminence stated, adding that "once the Palestinian resistance expresses a weak will via its people and declared a cease-fire, nobody in this world will stop the aggression, but will rather help the enemy to achieve its goals."
Hezbollah Secretary General also believed that Gaza has resisted and survived, and still it is, while the Zionist entity appeared invading using its political, security and military echelons.
"After a few days of confrontation, it became clear that they (Zionists) have been surprised, and they are talking about a surprise. Israelis have sinned when they thought they were able to destroy the missile capacity of Resistance, especially since the first strikes," he said.
"So far the Resistance has the capacity to bomb Tel Aviv, Jerusalem and other places," his eminence stressed.
Sayyed Nasrallah went on to say that "just like the July war, the Israeli (the enemy authorities) called to resort to shelters 40 km away after the first day, and was surprised. The Israeli assumed that after the two- or three-day bombing the Resistance was expected to cry and demand a cease-fire at any price. For this reason we heard arrogant statements in the past few days."
His eminence also assured that "the resistance in Gaza has the ability, the will, the available potential, the plans that have been developed and the gaps that have been filled, which will put it before a very great experience of confrontation, while the Israelis are going to commit a folly if they decided to carry out a ground operation in Gaza."
Sayyed Nasrallah made it clear that "there is information indicating that Israel has asked world states to urge Gaza to agree on ceasefire," noting that "the resistance poses its conditions now, which include lifting the siege on Gaza in all forms, along with having international commitments to prevent the enemy from practicing assassinations and aggression."
"Resistance is not in a situation to ask for a cease-fire, because this is not in its favor."
Sayyed Nasrallah stated also that "talk has been started about the consequences of deepening the aggression, away from financial and economic repercussions. However, even talk about a ground invasion is still closer to the hype and pressure than to reality."
As for the Arab official reaction, Hezbollah Secretary General stated that "we are still below the minimum expected from Arabs. Arab states are required to pressure Israel to stop its aggression and respond to the legitimate conditions of Palestinian Resistance."
"We haven't heard any threat to cut off relations or annul and suspend agreements, or to use oil as a weapon or raise its prices or reduce its production to put pressure on the U.S."
"Obama can put an end for the war by a single phone call; yet he is still supporting what Israel is doing, which means he hasn't heard any word from Arabs up till now," Sayyed Nasrallah noted.
His eminence expressed hope that Arab states will take appropriate position, while expressing fears that some Arab states might exert pressure on the resistance to abandon its legitimate conditions "in order to claim they had a role of calm and present their credentials to the U.S."
"What is required is a real support and Gaza is able to achieve victory," Hezbollah Secretary General Sayyed Hasan Nasrallah concluded.