Most important stances in Hezbollah Secretary General Sayyed Hasan Nasrallah's speech on Prophet Mohammad's birthday with subtitles.
Following is a subtitled video with the most significant stances in Hezbollah Secretary General Sayyed Hasan Nasrallah's speech on Prophet Mohammad's birthday and the Islamic Unity Week on the 25th of January, 2013.
A division scene seems to be the strongest and most dangerous scene dominant in the Arab and Islamic fields as the Week of Islamic Unity and the birthday anniversary of Prophet Mohammad passes; a scene in which divisions and clashes between countries, nationalities, religions, and sects – and even within the same sect – seem to increase.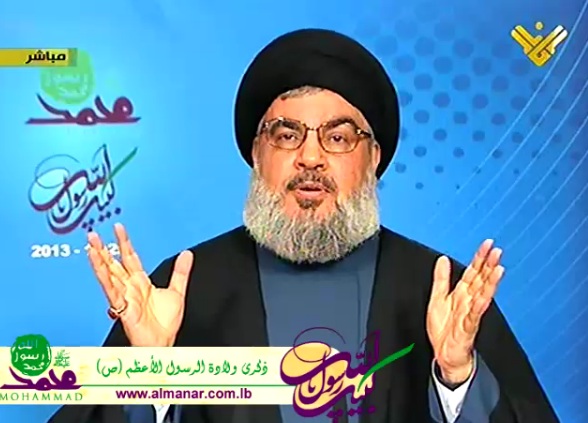 Through this black scene, a courageous call for unity comes out; a call which Imam Ruhollah Khomeini had originated and Sayyed Hasan Nasrallah renewed.
The background of these clashes and their core is neither religious nor sectarian, but political, his eminence says.
These are Clashes over power, not over a religion or a sect, he emphasizes, and warns of bringing the "genie out of the bottle".
The solution, Sayyed Nasrallah reiterates, is dialogue in all the fields, from Syria to Yemen, Egypt, Iraq, and Lebanon.
From his reading of the Israeli election and the weakness as well as increasing extremism inside the Zionist entity, Sayyed Nasrallah concludes that the resistance in Lebanon and Gaza is the only guarantee.
On the Lebanese electoral issue, Sayyed Nasrallah excludes the language of arguments and accusations, and reassures that the resistance's basic stance is "proportionality" as it is the most equitable and fair option.
However, Christians' fears have formed a transformation, which Hezbollah accepts, and accepts along with it the Orthodox law, because most Christians consider it a chance.
From here, Sayyed Nasrallah calls on the Lebanese: Go and discuss the electoral law, and remove from your minds waiting for the Syrian developments, as facts on ground have assured that many bets and dreams will not come true.
In his speech during a ceremony that Hezbollah held on Prophet Mohammad's birthday anniversary in Sayyed Al-Shohadaa complex, Sayyed Nasrallah called on the nation to "keep the genie in the bottle" and be aware as political clashes are threatening the Ummah".
Translated by Sara Taha Moughnieh