US Secretary of State John Kerry was due to discuss the Syria crisis with Turkey's leaders on Friday.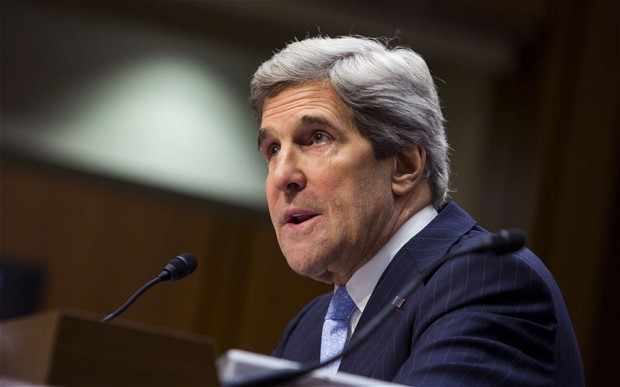 US Secretary of State John Kerry was due to discuss the Syria crisis with Turkey's leaders on Friday in talks likely to be strained by controversial comments by Prime Minister Recep Tayyip Erdogan branding Zionism a "crime against humanity."
The talks come a day after Washington announced that it would for the first time provide direct aid to Syrian rebels in the form of food and medical supplies as well as $60 million in extra assistance to the political opposition.
The two-year civil war in neighboring Syria will top the agenda for Kerry, who is due to meet with President Abdullah Gul, Erdogan and Foreign Minister Ahmet Davutoglu.
But the talks are likely to be overshadowed by renewed tension between Turkey and the Zionist entity, two major Washington allies, following comments Erdogan made earlier this week at the UN-sponsored forum in Vienna.
"As is the case for Zionism, anti-Semitism and fascism, it is inevitable that Islamophobia be considered a crime against humanity," Erdogan said.
His comments were dubbed as "a dark and mendacious statement," by Zionist Prime Minister Benjamin Netanyahu while Washington strongly stated that "characterization of Zionism as a crime against humanity... is offensive and wrong."
Turkey, once a close ally of Syria, has joined the west in its campaign to oust the regime of President Bashar al-Assad and has given shelter to Syrian militant opposition groups and to nearly 200,000 refugees along its volatile border.
In January, the United States began deploying Patriot missiles, along with Germany and the Netherlands, as part of a NATO mission to protect Turkey from any spillover of the Syrian conflict.
Kerry was also due to attend a memorial ceremony in Ankara, in honor of the US embassy guard who was killed in a February 1 suicide attack claimed by the anti-US group the Revolutionary People's Liberation Front (DHKP-C.)
Among the issues on his agenda during the talks is also Washington's pressure for increasing sanctions on Iran for its peaceful nuclear program.
Iran is Turkey's second-biggest natural gas supplier after Russia, and third biggest in oil.