Syrian President Bashar Al-Assad said that Syria was able to "satisfy its people, give vent to their, as well as its allies' congestion, and take revenge by firing a couple of rockets at Israel, in response to the Israeli raid."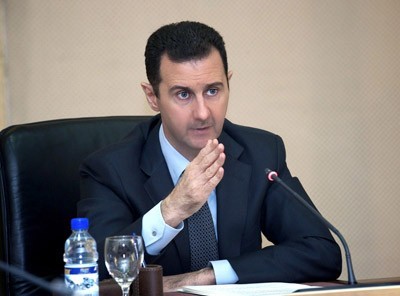 Syrian President Bashar Al-Assad said that Syria was able to "satisfy its people, give vent to their, as well as its allies' congestion, and take revenge by firing a couple of rockets at Israel, in response to the Israeli raid on Damascus. It is aware that Israel does not want a war, and that if it fired back, it would be considered an equal response."
According to Al-Akhbar newspaper, Assad was quoted by his guests as saying that "the international situation does not allow a war, which neither Israel nor America wants. By that, we would have taken a tactical revenge. However, what we want is a strategic revenge by opening the door of resistance, and turning Syria into a resisting country."
Assad on Hezbollah
"After the raid, we became more certain that we are fighting the enemy now. We are tracing his soldiers that are deployed in our country," he added.
The Lebanese daily said that Assad further voiced "very high trust, relief, and appreciation for Hezbollah over its rationality, loyalty, and steadfastness. Therefore, we have decided to give it everything. For the first time, we started feeling that we shared the same state and destiny, and that it was not just an ally and a partner which we aid in its resistance. Thus, we have decided to approach it and turn into a resisting country similar to Hezbollah, for the sake of Syria and the future generations."
Syrian Official on Turkey
In this context, Al-Akhbar daily quoted a high-leveled Syrian official as saying that "Turkey was a lying and hypocritical country, which cannot be trusted. We don't even think that the agreement being made between Ankara and the Kurds would be implemented, due to the conflicts between the Turkish Army and the Justice and Development Party over it…"
On Iraq
In contrast, the Syrian official assured there wasn't any problem with the Iraqi leadership.
"It is clear that the Qataris and the Turks are meddling in the Iraqi field, where they are stirring incitements and trying to sabotage, even more than the Saudis are. However, the Iraqis seem to be in control of the situation, as they are overcoming the crises."
He indicated that "there isn't any depth for the so-called Iraqi opposition. Turkey is incapable of strengthening it. The story is only about cash money being paid, and this does not last."
On Russia
Regarding the Russians, the Syrian official said they "were honest and comforting, and there isn't any problem with them…" indicating that while Syria was advancing in the battlefield, they were reaching agreements.
"However," the official stressed, "the relation between us is not as some people imagine. We are not waiting for anything from them. They are the ones waiting to see our advance on ground".
On Egypt
On Egypt, the Syrian official told Al-Akhbar that Damascus welcomed Cairo's return to perform its regional role, unlike its stance towards Saudi and Qatar.
According to the Lebanese daily, "Tehran and Damascus seem to have a conviction that Cairo is disturbed from the Turks and the Qataris, and it is ready to reconsider its previous stances on Iraq and Syria. Also, the Egyptian leadership is ready to reconsider its internal policies, regarding its relation with Al-Azhar and opposition groups; and Iran is ready to play a role in this field, by offering its experience to rebuild the state."
On Gulf
As for Gulf countries, the Syrian official considered they "lived in the time of tribes. It does not conceive the concept of a state, and we advice anyone negotiating with them not to treat them like states. Dialogue with them is useless. We tried them. Succeed in your policies and they will rush towards you."
On Jordan
In contrary, "We are in contact with the Jordanian leadership. King Abdullah doesn't want to see Syria under threat, but there is tremendous pressure on him, as well as American and Israeli intervention. Yet, Jordan's enemy will always be Qatar, Saudi, and the (Muslim) brotherhood," he said.
On Qatar
Concluding with Qatar, the Syrian official pointed out that Qatar also irritated Jordan and Egyptian President Mohammad Mursi.
"What is that Emirate that wants to kneel down all the Arab states and their leaders with money?"
He indicated that "several Gulf States resented Doha's performance at the Last Arab summit in Qatar. However, the Qatari leadership was also frustrated from what it considered was an American and French retreat, and Saudi advance."