The Zionist entity said it had enjoyed favorable security relations with Egypt under the leadership of ousted President Mohammad Mursi
The Zionist entity said it had enjoyed good security relations with Egypt under the presidency of ousted Muslim Brotherhood President Mohammad Mursi.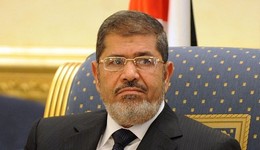 Israeli Ynet news quoted an unnamed official On Thursday as saying that the regime had established "good security cooperation with Mursi's Egypt," referring to the situation in the Sinai Peninsula.
Tzachi Hanegbi, an aide to Israeli Prime Minister Benjamin Netanyahu, also praised what he described as continued good ties with Egypt's armed forces, expressing hope that the appointment of Adly Mansour, the chief justice of Egypt's Supreme Constitutional Court, would lead to the improvement of the Israeli relations with Cairo, the Jerusalem Post reported.
Meanwhile, former Israeli chief of staff Gabi Ashkenazi also said that Mursi's Muslim Brotherhood was "reasonable" in its ties with the Tel Aviv regime as the group did not renege on the Camp David Accords and launched a crackdown on underground supply tunnels between the Sinai Peninsula and the blockaded Gaza Strip under the Mursi administration.
Over the past months, Egypt has stepped up its crackdown on the supply tunnels leading into Gaza which bring basic needs to the people of the besieged strip. Egyptian army forces flooded several of tunnels in February.
Egypt's ousted president is reportedly being held "preventively" by the military and around 300 Brotherhood officials are facing arrest warrants. An army official said Mursi might face formal charges over accusations made by his opponents.