Ivory Coast's Alassane Ouattara urges peace after rival arrested as Gbagbo's camp accuses France of carrying out camp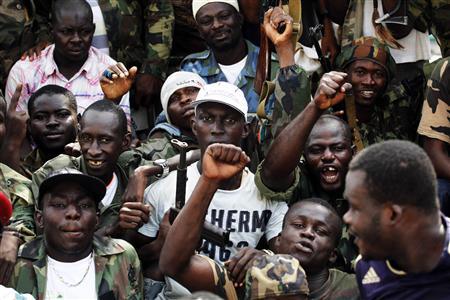 Ivory Coast's internationally recognized president, Alassane Ouattara, called for peace after his rival, Laurent Gbagbo, was arrested with the help of French forces, as he faces a huge task reuniting the country.
Gbagbo, who had refused to step down after 10 years in power, was arrested after French forces in the former colony closed in on the bunker where he had been holed up for the past week, and placed under the control of Ouattara's forces. That has left Ouattara as the sole leader in charge of the country, although many analysts say it may not be enough to end the fighting that has bloodied the world's top cocoa grower.
"I call on my fellow countrymen to abstain from all forms of reprisal and violence," Ouattara said in a speech on his TCI television late Monday, calling for a new era of hope. "Our country has turned a painful page in its history," he said, urging marauding youth militias to lay down their weapons and promising to restore security to the battered nation.
Ouattara said Gbagbo, his wife and aides who have been detained will face justice. But he also promised a South African-styled Truth and Reconciliation Commission to shed light on all crimes and human rights abuses.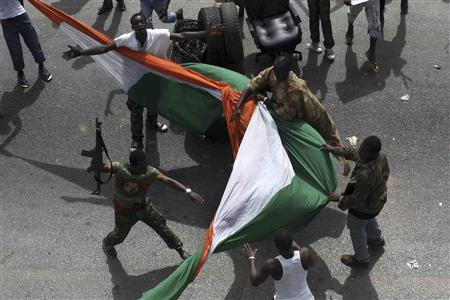 WHO SEEKS UNITY?
UN Secretary General Ban Ki-moon called on Ouattara to form a national unity government to help reconcile the country's divisions, his spokesman said.
But a Gbagbo aide said only negotiations with Gbagbo's camp would spare further turmoil. "There must be negotiations, talks with Gbagbo who is the only one who can prevent Ivory Coast from plunging into violence," Pascal Affi N'Guessan, head of Gbagbo's FPI party, told Radio France International.
FRANCE ACCUSED
Alain Toussaint, a spokesman for Gbagbo, accused French special forces of carrying out a coup in its former colony on behalf of his rival. "It was a coup d'état which had no other aim but to gain control of the resources of Ivory Coast," Toussaint told reporters in Paris. "Gbagbo was captured by French special forces, who took him to the Golf Hotel," where Ouattara has his headquarters, he said, sitting alongside French lawyer Jacques Verges, who specialises in defending international pariahs.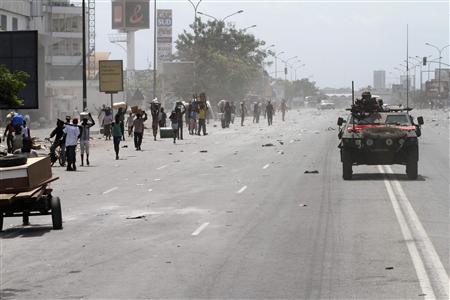 Toussaint demanded Gbagbo be released, but his call was likely to fall on deaf ears in Paris, where the government recognizes Ouattara as the rightful president of Ivory Coast and Gbagbo as prisoner of his government.

"Not a single French soldier set foot in his residence," French Prime Minister Francois Fillion told parliament. "The priority is now reconciliation and reconstruction, it's a victory for the rule of law, for democracy and for the United Nations mission in Ivory Coast," he said, brushing off critics of France's role in the conflict.

French foreign ministry spokesman Bernard Valero also immediately dismissed Toussaint's accusations, telling AFP that Mr. Toussaint must be unwell. "I would be happy if he got back in touch with reality," he said.

French former foreign minister Roland Dumas also said earlier Tuesday that French troops had captured Gbagbo, who had held power since 2000 but stubbornly refused to admit defeat in a presidential election last November. "The truth is clear and it is that the French army, on political orders, delivered his (Ouattara's) adversary," Dumas told France Inter radio. "It even brought him to the home of his adversary, a little like in traditions of old, in antiquity," said Dumas, a senior lawyer who visited Ivory Coast recently to show support for Gbagbo.
Meanwhile, the French government announced Tuesday it would give Ivory Coast 400 million Euros in financial aid to help residents and restart public services in Abidjan. The World Bank said it hoped it could move forward on writing off the country's debt.