Armament Offers, One of Which Was Lebanese, Rejected
By Nedal Hmedeh

Translated by: Eslam al-Rihani


Armament Offers, One of Which Was Lebanese, Rejected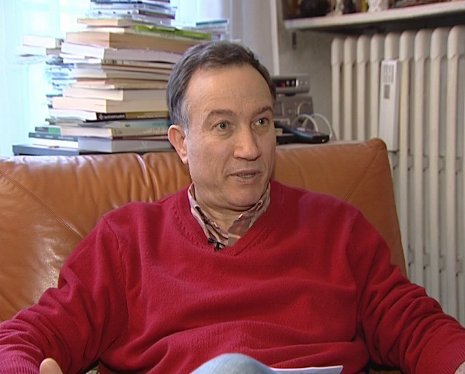 Dr. Haytham Mannaa

Dr. Haytham Mannaa, spokesman of the Arab Commission for Human Rights, narrated the story of a phone call he had received for an important meeting at a cafe in the French capital, Paris.
Speaking to Al-Manar Website, Dr. Mannaa cited that a Syrian businessman - holding a second nationality - attended the meeting accompanied by three Syrians, along with another man working as a reporter for a giant Arabic TV network that belongs to a major Gulf State.
In the meeting, talks were focused on Syria and "the needs of the youth in Daraa, Syria. The Syrian businessman with the Western nationality offered to arm Syrian opposition groups both qualitatively and quantitatively. According to Dr. Mannaa, he and the delegation with the businessman were stunned at what they had heard.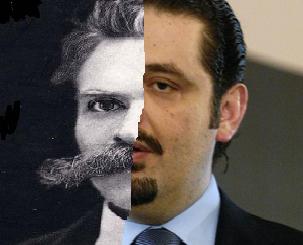 The offer was categorically rejected, said Manna who informed those concerned in Daraa, his home town that armament offers should be rejected regardless of their origin, and weapons should never be used. The reply he received was that no weapons shall enter the district of Daraa.
However, Dr. Mannaa revealed that this was not the first armament offer of its kind. "There were two other armament offers, one of them came from a Lebanese party that is currently at direct political odds with Syria," Dr. Mannaa was quoted as saying.


As for the parties that give great heed to arms being an effective element in winning the battle against the Syrian regime, Mannaa specified them as the following:

A - American parties or parties related to the American administration.

B - Lebanese parties which were recently dealt severe political blows by the Syrian regime.


C - Those who have amassed fortunes in diaspora, and conceal hatred and desire for reprisal while having no interest in Syria's internal affairs.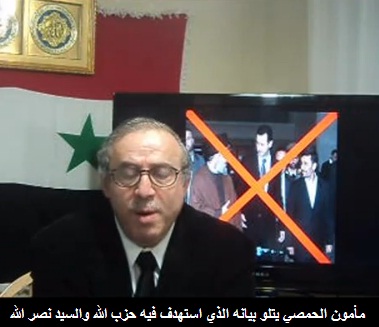 Maamoun el-Homsi
On the involvement of some Lebanese parties with what is going on in Syria, Mannaa said "there are people who receive a monthly salary from Lebanese Caretaker PM Saad Hariri, for talking about Hezbollah more than talking about the Syrian people."
"Citizens of Southern Lebanon recognize the nationality of Syrian citizens, who welcomed the displaced families in their houses during the July 2006 war. Anyone who tries to push the Lebanese resistance or the Palestinian resistance into a confrontation with the Syrian people is certainly serving a foreign agenda rejected by Syrians altogether. The two elements of conspiracy in the Syrian criminal law are money and arms. Both are totally rejected in all forms by the people of Syria. He who receives money from any Lebanese or American party will be treated the same under the law. Martyrs' families do not accept to hear the names of those financed by the former Lebanese PM or by the extreme right-wing American institutions. There were no members of Hezbollah in Daraa. The elements of the problem are the Syrians themselves, be it in power or outside it."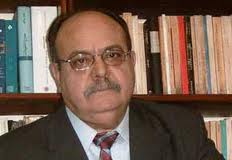 Abdul Razzaq Eid

The former Syrian opposition MP (Ma'moun Homsi) had claimed that members of Hezbollah were present in the province of Daraa. However, Homsi's claim had been discredited in an official Hezbollah statement.
Moreover, the chief of "Damascus Declaration National Council Abroad" (Abdul Razzaq Eid), who describes Hariri as "Mahathir of Arabs", also claimed that Iranian agents were present at the place as well.
While Dr. Mannaa stressed Daraa people's rejection of all kinds of armament, he pointed out that those who had offered arming him, had made the same offers to other Syrians, "but the rest of provinces have also expressed their categorical rejection of all such offers."
Farid Al-Ghaderi
The spokesperson of the Arab Commission for Human Rights revealed that there were some agents who had been distributing false statements on behalf of Daraa's tribes, families, and the Syrian Assembly of Tribes at different times.
"They would even introduce sectarian rhetoric and calls for vendetta. All these statements inspired by Washington and distributed via what is known as "Reform Party" led by (Farid Al-Ghaderi – who visited the Israeli Knesset in 2007), or via pseudonyms such as "Amirat Taamor, - (Princess of Taamor) who works with him.
In Part II: Two oppositions in Syria;
How were Syria events managed on the ground?!

To read the original Arabic article,
click here
.