Loyalty to Resistance condemned the arrogant US threats against Syria and all the Arab countries, considering that the US aims at controlling the whole region.
The deactivation of the Lebanese public institution,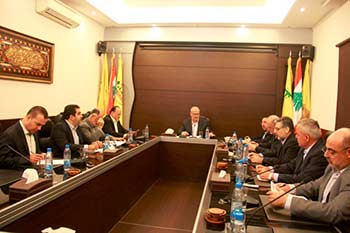 the deterioration of the socio-economic and security conditions in Lebanon as well as the regional challenges that threaten the local stability topped the agenda of the meeting that was held by the Loyalty to Resistance parliamentary bloc.
The bloc asserted, in a statement, the importance of taking the necessary measures to cope with the consequences of Dahiyeh and Tripoli blasts and to reduce the economic loads that overburden all the Lebanese.
"The paralysis and the recession that strike the Lebanese public institutions seriously endanger Lebanon as March 14 forces have decided to deactivate the government and the parliament, betting on regional changes to subdue the national partners," the statement read.
"Rejecting the national dialogue and the harmony among the main factors of the strategic equation that protects Lebanon-the army, the people and the resistance struck the Lebanese security and stability as the sectarian language is publically used," the statement added.
Loyalty to Resistance also condemned the arrogant US threats against Syria and all the Arab countries.
"The American aggression against Syria represents an organized terrorism that threatens the regional as well as the international stability and aims at strengthening the Zionist arm and the colonial grip to control the whole region.
The direct involvement of the American administration asserts that the crisis in Syria is an international conspiracy whose target is the foreign dominance over the region," the statement read by the bloc member, MP Hassan Fadlallah, underlined.