Aggression was over the Moment the Two Missiles were Fired
Daoud Rammal – As-Safir
Aggression was over the Moment those Two Missiles were Fired
A well informed diplomatic source told As-Safir newspaper that "the US war on Syria had started and ended the moment those two ballistic missiles were fired, leaving inconsistent information, as Israel denied and Russia confirmed, until an Israeli statement was issued indicating they were fired in the context of an Israeli-US joint drill and fell in the sea, and that they were not related to the Syrian crisis."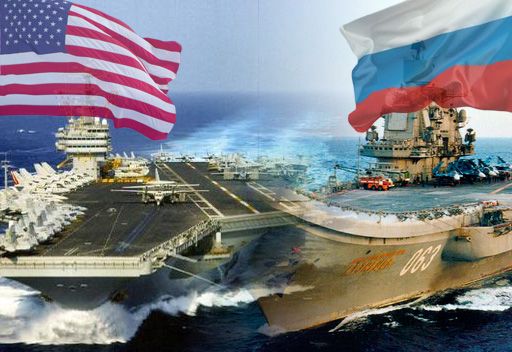 The source further told the Lebanese daily that "the US forces fired these two rockets from a NATO base in Spain, and were instantly detected by the Russian radars and confronted by the Russian defense systems, so one of them exploded in the airspace and the second one diverted towards the sea."
In this context, the source pointed out that "the statement issued by the Russian Defense Ministry, which stated the detection of two ballistic missiles fired towards the Middle East, intended to neglect two points: the first was the location from which the two rockets were fired, and the second was their downing. Why? Because the moment the full military operation was launched, Head of the Russian Intelligence Service contacted the US intelligence and informed it that "hitting Damascus means hitting Moscow, and we have removed the term "downed the two missiles" from the statement to preserve the bilateral relations and to avoid escalation. Therefore, you must immediately reconsider your policies, approaches and intentions on the Syrian crisis, as you must be certain that you cannot eliminate our presence in the Mediterranean."
"This unannounced direct confrontation between Moscow and Washington increased the Obama Administration's confusion and certainty that the Russian side was ready to move until the end with the Syrian cause, and that the US did not have a way out of its impasse except through a Russian initiative which would save America's face…" he added.
From this point, the diplomatic source clarified that "in order to avoid further US confusion, and after Israel denied knowing anything about the rocket firing in its first statement, which is the truth, Washington demanded Tel Aviv to adopt the rocket firing to save its face in front of the International Community, especially since these two rockets were the beginning of the US aggression on Syria and the announcement of the beginning of military operations, after which US President Barack Obama was supposed to go to the G20 Summit in Russia to negotiate the destiny of Syrian President Bashr Al-Assad. However, he went to find a way out of the impasse he's in."
The source further indicated that "after the US-Russia rocket confrontation, Moscow intended to increase its number of military experts in Russia, and added to its military units and destroyers to enhance its military presence in the Mediterranean. It also set a time for announcing about its initiative on stopping the aggression on Syria after the G20 Summit, after drawing a side scene on the sidelines of the summit which was followed by two successive visits for Iranian Foreign Minister, Hussein Amir Abdul Lahyan, and Syrian Foreign Minister, Walid Al-Moallem, in which a way out was agreed on with the Russian side, and it included a Syrian announcement on approving the Russian initiative regarding putting Syrian chemical weapons under international supervision and preparing Syria for joining the non-proliferation treaty.
Finally, the source pointed out that "One of the first results of the US-Russian military confrontation was the British House of Commons' rejection to participate in a war on Syria. This was followed by European stances, most significantly, the German stance announced by Chancellor Angela Merkel."
Translated by Sara Taha Moughnieh