As he considers that the chemical weapons are no more deterrent, President Bashar al-Assad says that Syria today has more developed weapons that can paralyze the Zionist entity in few seconds.
As he considers that the chemical weapons are no more deterrent, President Bashar al-Assad says that Syria today has more developed weapons that can paralyze the Zionist entity in few seconds.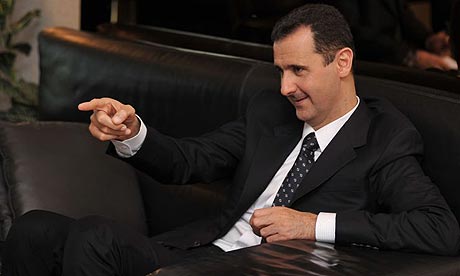 Lebanese writer, Elie Shalhoub visited the Syrian leader and found out that Assad was calm and at ease with regard to the conditions his country has been witnessing nowadays.
In an article published by al-Akhabar daily, Shalhoub said that Assad had answers to many questions, "he deals with the strategies without ignoring the very details."
President Assad "considers that the situation today is more than excellent," Shalhoub said.
He quoted the Syrian leader as saying: "they had tried at the beginning to portrait the battle in Syria as a fight between the Sunni sect and some minorities, claiming that these minorities were dominating the country. But we could, through management, patience, tolerance and betting on people to change this equation."
Talking about Syria's enemies, Assad said: "They are stressed. The failure they have ended in due to political and diplomatic confusion could prompt them to move in an unreasonable and hysterical way. For that, don't find strange any diplomatic, political and security escalation, it will be unrealistic, it is not more than a bubble or media war in a bid to retake initiative."
Shalhoub reported that the Syrian president was satisfied by the US-Russia joint deal concerning destroying Damascus' chemical weapons.
He quoted Assad as saying: "We have 1000 tons of chemical weapons that we already consider a burden. Getting rid of this weapon costs a lot and takes years as it raises environmental challenges and problems. Let they come and take it (chemical weapon)."
"The chemical weapon is not and will not be their target. They wanted to change the balance of powers in the region and to save Israel. But we turn the tables on them and threw the ball in their court so they were embraced," Assad added according to Shalhoub.
Asked by the Lebanese writer whether it is a strategic loss for Syria to lose its chemical weapon, Assad said: "We had produced our chemical weapon, during the eighties of the last century, in a bid to deter Israel. However it is no more deterrent and today we have weapons that are more important and sophisticated through which we can paralyze Israel in seconds."
Meanwhile, Assad noted that the US president Barack Obama "was not willing to carry out any military action against Syria, he was hesitant and fearful as he was waiting for who will find a way out for him (regarding this issue)."
"According to Assad, Obama is hesitant and stumbled. He is weaker than launching an attack against Syria. He didn't lose only, he lost in his own home where he is no more able to maneuver within the equation of the internal American balance," Shalhoub added.
On the other hand, regarding the relations with Russia, Assad said there are pledges made by Russia that its forces will interfere in case of any attack on Syria.
"The Russian forces will take the field and fight from the Syrian territories," President Assad told Shalhoub.
Talking about Iran and Hezbollah, Assad stressed that both Damascus and its allies are engaged in the battle under the name of one front, the resistance front.
He added that if Damascus was hit then Hezbollah and Iran would be the second target of the offensive.
"I am confident that the lord of fidelity (referring to Hezbollah Secretary General Sayyed Hasan Nasrallah) is able to contain the repercussions of any offensive against Syria…"
Assad stressed that the Zionist entity is not like before, noting that the Israeli enemy is fighting now by the hands of others.
"Israel is prompting the US to launch a war in the region as it utilizing the "American Islam group" which is composed of Takfiris in order to fight us. These Takfiris are the direct enemy of Syria in the meantime," the Syrian leader added.