Dozens were martyred and injured as a suicide bomber targeted a mourning ceremony at a mosque in south of Baghdad.
Twelve car bombs, targeting different areas in and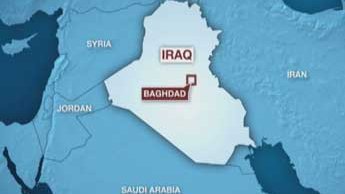 around Baghdad, killed at least 54 people Monday, officials said.
The car bombs struck nine different areas also wounding more than 190 people.
The deadliest attacks hit Kadhimiyah where two car bombs killed at least nine people and wounded another 19.
In Baghdad Jadida, a bomb exploded in a car park, burning vehicles, destroying a fence and shattering the windows of nearby shops and a women's clinic.
Security forces deployed to the area, closing off streets and using sniffer dogs to search for more bombs.
Later on Monday, a bomb exploded as worshippers left Al-Mustafa Mosque in the Dura area of south Baghdad, killing at least three people and wounding at least 12.
Central Iraq has seen a series of sectarian attacks on mosques and funerals in recent days.
On Sunday, 27 people were martyred and 35 others were injured as a suicide bomber targeted a mourning ceremony at a mosque in south of Baghdad.
The blast also collapsed the roof of Al-Hussein Mosque in the Musayyib area.
"The collapse of the mosque roof killed many of those who were present," said Hamza Habib, who went to the scene after the blast.
"Blood was everywhere in the mosque, and I saw some body parts of victims."
Haidar, who was inside the mosque at the time of the explosion, said some people tried to stop the bomber, who was still able to detonate the explosives among the mourners.
The funeral was for a person who was killed two days before when a house in Musayyib was blown up, Nasser Karim said.
Monday's violence came also a day after a rare attack in Arbil -- the usually quiet capital of Iraq's autonomous Kurdish region -- which killed seven security forces members and wounded more than 60 people.
On Friday, bombs exploded near two Sunni mosques in Baghdad as worshippers left after prayers, killing six people.
The latest bloodshed brings the September death toll to more than 870, according to AFP figures based on security and medical sources. Upwards of 4,700 people have been killed so far this year.