In a very clear message that no threat can keep him from Imam Hussein (a.s.), Sayyed Nasrallah personally appeared before crowds commemorating the tenth night of Muharram.
In a very clear message that no threat can prevent his eminence from commemorating Ashura, Hezbollah Secretary General Sayyed Hasan Nasrallah personally appeared before crowds on the tenth night of Muharram in Sayyed Shuhadaa Complex in Beirut's southern suburb.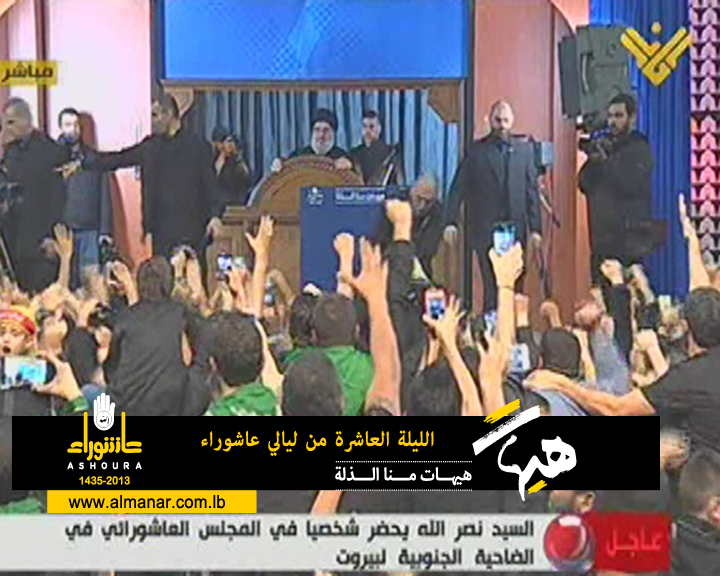 His eminence stressed that neither blast, nor bloodshed, nor car bombs will prevent us from taking part in Ashura commemoration.
The resistance leader assured that the Zionist entity seeks war in the region, accusing some Arab countries of standing beside the Israeli enemy.
Talking about a proposed deal between Iran and world powers over the Islamic Republic's nuclear program, Sayyed Nasrallah stressed that such deal will make the position of Hezbollah's alliance with Tehran and Damascus stronger.
Addressing those who are betting on events taking place in Syria in order to form a new Lebanese government or not, his eminence assured that they will not triumph in Syria.
Sayyed Nasrallah also tackled the Israeli espionage issue, saying that the resistance has so many things to do in this affair if the Lebanese state abandons its responsibilities.
Israel Seeks War
Sayyed Nasrallah said that the Zionist entity was pleased as our region witnesses fights and disputes, but noted that it is worried about the future.
"Israel is happy as fights and disputes are taking place in the region," Hezbollah S.G. addressed crowds, adding: (Israeli Prime Minister Benjamin) "Netanyahu has become specialized with Sunni-Shiite issue through his speeches."
"At the same time, Israel is worried about future as it incites war and doesn't seek peace or calm in the region."
"When 9/11 events took place, Israel and the Zionist Lobby invested all their capabilities in order to prompt the US to invade the region."
Sayyed Nasrallah said that the Zionist entity "instigated Iraq war as it had decisive impact on this issue," adding that it also "used all its power in order to launch a military attack against Syria, but it failed."
Some Arab Countries Stand beside Israel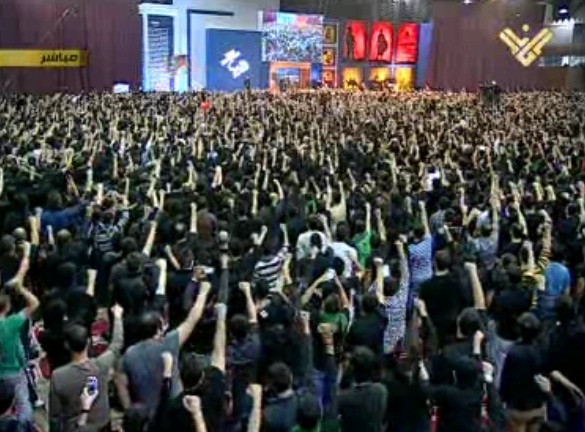 The resistance leader regretted that some Arab countries are standing beside Israel as they refuse political solution in Syria and a proposed deal between Iran and world powers over the Tehran's nuclear deal.
He noted that these countries seek war and destruction in the region, but warned that they may know when a war will break out, however they can't know when it will end.
His eminence said that people of the region should know "who seeks war and destruction and who seeks solutions and compromises."
Sayyed Nasrallah noted that some "Arab leaders were embarrassed as the resistance triumphed in Lebanon."
Israeli Epionage
Hezbollah S.G. also tackled the issue of the Israeli espionage, urging the Lebanese government to assume its responsibilities regarding this affair.
"Israeli espionage is a new threat by the Zionist entity," his eminence said, noting that the communication sector in Lebanon is easily reached by the Israeli enemy.
"The government should assume its responsibilities to defend the country, if it wants to utilize from the resistance's capabilities it can."
"Resistance can do many things to confront the Israeli espionage" if the government fails to assume its responsibilities, Sayyed Nasrallah said.
"It is worth here to reiterate the importance of the wired communication network of the resistance," he noted.
US Can't Determine Future of Lebanon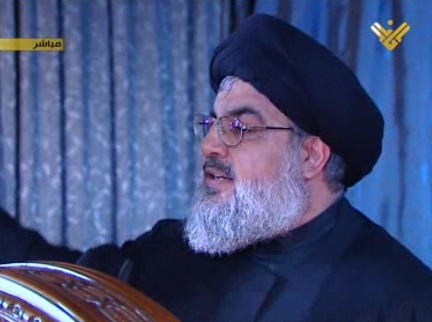 Responding to US Secretary of State, John Kerry's remarks that US agreed with the Suadi Arabia that Hezbollah can't determine the future of Lebanon, Sayyed Nasrallah said: "Let Kerry or others say whatever they want. These remarks indicate that they recognize us, our capabilities and our power."
"Since 1982, US, Israel and some Arab countries wanted to destroy this region. However the resistance toppled this scheme they have planned for."
"Resistance and Lebanese people toppled the US-Israeli scheme in July war 2006," his eminence added.
Forming New Government
Hezbollah S.G. tackled the Lebanese local issue as he talked about forming a new government.
He said that no one can cancel Hezbollah, adding that the party doesn't want to do so with the other side.
"The Lebanese equation requires us to recognize partnership, cooperation and contact" with the other camp.
He said that it "is inventible to form a new government," noting that the factual formula is 9-9-6.
"Some sides are preventing forming a new government in Lebanon, waiting for the developments in Syria."
"If somebody, somewhere is waiting for the victory in Syria in order to form a government in Lebanon, I tell him he will not triumph there."
'Stronger Position'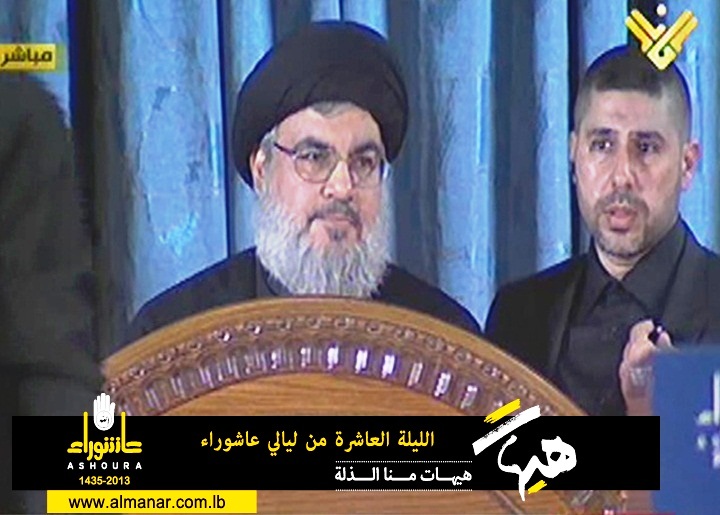 Talking about a proposed nuclear deal between Iran and the world powers, Sayyed Nasrallah warned: "If things go for war, the other camp should be worried."
"In case the Iranian deal takes place then the position of our alliance will be stronger," Sayyed Nasrallah went on saying.
"As we were never abandoned by Iran and Syria, the other camp has been frequently abandoned by its allies," his eminence added.
Threats Will Not Prevent Us from Commemorating Ashura
Addressing crowds, resistance leader thanked all those who guarded, organized and took part in Ashura commemoration.
His eminence also thanked the Lebanese army and security forces for their efforts, especially in these days.
"Tomorrow neither threat, nor blast, nor bloodshed, nor car bombs will keep us from our Hussein," Sayyed Nasrallah said, noting that the commemoration this year "does not represent a challenge for anybody."