Russian Ambassador to Lebanon calls for cooperation with official departments to counter terrorism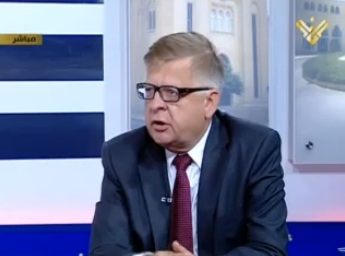 Russian Ambassador to Lebanon Alexander Zasypkin stressed on Friday that there must be coordination with the legitimate apparatuses, whether in Iraq or Syria to combat terrorism.
During an interview with Al-Manar TV, Zasypkin said that if the Americans have the desire to directly get involved in Iraq, let the American activities be in accordance with international legitimacy.
The Russian diplomat pointed out that the Americans froze a large number of areas of cooperation with his country.
"However, in the Middle East, the picture is not entirely clear," he said, noting that if the political process revived in Syria, this will meet the interest of neighboring countries.
Regarding Lebanon, Zasypkin stressed the need to find solutions to the Lebanese agenda, including the presidential file among the dialogue and the Lebanese themselves.
He also highlighted that Russia resumed negotiations to send arms to the Lebanese army.