Ever since its creation, the UNRWA has been regularly attacked politically by vested interests
New Book on UNRWA Brings Palestinian Refugee Problem into Focus
Edited by Sari Hanafi, Leila Hilal and Lex Takkenberg, American University of Beirut
Routledge, London and New York (ISBN 978-0-415-71504-1)
Reviewed by Franklin Lamb
The United Nations Relief and Works Agency (UNRWA) was established by a UN mandate on December 8, 1949—specifically to deal with the humanitarian needs of Palestinian refugees following the Nakba, or the establishment of the state of Israel.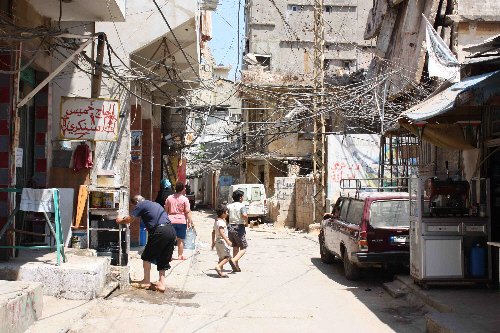 In the absence of a solution to this ongoing problem, the General Assembly has repeatedly renewed the UNRWA's mandate, most recently until June 30, 1917, yet over the years the agency's objectives and focus have evolved. This new volume, edited by Sari Hanafi, Leila Hilal, and Lex Takkenberg, provides a close up look at how the UNRWA functions while emphasizing the centrality of the Palestinian refugee issue in this region and beyond. Packed with a useful bibliography and numerous footnotes, the book provides a key analysis of the UNRWA's fieldwork as well as a broad scope of relevant information that probably, one imagines, is unavailable elsewhere. In short, it is a book that is long overdue.
The UNRWA has of course been especially in the news of late following the latest nearly two-month aggression against Gaza, and there is perhaps now more than ever a thirst for greater understanding of this conflict that has dragged on for more than six decades and its impact on those most adversely affected—and from that standpoint, one of the most useful benefits of the volume is the context it provides to the non-specialist about the workings of this unique humanitarian agency, offering a dossier of essential information for researchers, diplomats, mainstream and activist media and, perhaps most importantly, the general public.
Ever since its creation, the UNRWA has been regularly attacked politically by vested interests—whether they be rightwing Zionists across Lebanon's southern border who consider the agency's very existence a threat to their continuing occupation of Palestine, or anti-Palestinian politicians in Lebanon itself, casuists and dissemblers still peddling the long-debunked claim that UNRWA promotes tawtin, or naturalization. Attacks of this nature seem to come with the territory. In any event, those of us who've advocated civil rights for Palestinian refugees in Lebanon, including the right to work, will especially welcome Sergio Bianchi's chapter on community participation and human rights campaigning, and also Terry Rempel's overview of the UNRWA's approach to refugee inclusion and involvement in community affairs. It has been four years since the enfeebled and highly politicized Lebanese parliamentary effort got off to a start with the supposed intention of remedying blatant discrimination against Palestinians—a group who face nearly 60 percent unemployment in Lebanon because they are blocked from working in more than 20 professions. Those of us left bewildered by the sham "reform" effort taken up by Parliament in August of 2010 will find Bianchi's analysis invaluable for grasping what went wrong.
With regard to Palestinian refugee camps, the book breaks ground with four excellent chapters on camp improvement/reconstruction in relation to community development. One key subject area here is the UNRWA's embarkation since the turn of the century in the launch of much needed projects entailing large-scale reconstruction (in Jenin, Neirab, and Nahr el-Bared Camps) and improvement (in Talbeyeh and Deheishe). A second crucial area involves the agency's recognition of the failures of camp administration "from above," resulting in initiatives to "consult the community" in camp improvement/reconstruction efforts. However, as Sari Hanafi demonstrates in Chapter 6, the UNRWA, as a "phantom sovereign," has held consultations, but they have often been on an interim or ad hoc basis—and the author advances a strong and compelling analytical criticism of UNRWA for not playing a more significant role in camp governance, especially when the popular committees have obviously failed to do so efficiently. (The reasons for these failures are many, including the committees being appointed and not elected as well as bereft of financial resources and unrecognized by Lebanese authorities.) Still Hanafi illustrates some new, yet modest to date, signs of more substantial UNRWA involvement in camp governance.
Muna Budeiri addresses the subject of perceptions of Palestinian refugee camps as temporary spaces. Many scholars and political commissars in the camps consider that this "temporariness" symbolizes the right of Palestinians to return to their homeland. Admittedly, the camps are politically exceptional spaces, but they should not be an exceptional urban space. Budeiri eloquently puts it that refugee camps should not exist as slums, nor as traditional refugee camps, but as a camp cities. Each one of these, in Budeiri's view, would thus become in essence a "spatial archive" of the Nakba (catastrophe)—but I would add that while labeling cities (Yarmouk, Ain el-Hilweh, etc.) as "camp cities" does indeed preserve the memory of the Nakba, we should be careful not to keep camps in their slum form simply for the sake of memory.
Nell Gabian, in Chapter 11, points out the importance of the new version of UNRWA that insists on the "self-reliance" of the Palestinian refugee (as highlighted in UNRWA's 2005-2010 and 2010-2015 Medium Term Plans"). However, Gabian demonstrates that refugees perceived the slogan as a "pull back," and she warns of the danger of a purely technical understanding of self-reliance, one that leaves out the protection and rights of refugees.
In Chapter 13, entitled "Palestinian Refugees and a Durable Solution: A Role for UNRWA," Rex Brynen offers readers a clear and succinct overview of the broader complexities faced today by the UNRWA as well as the problems confronting the Palestinian refugee community as a whole—both those still under direct occupation as well as those waiting in the diaspora for return. Brynen focuses on the challenges UNRWA faces not just from its political enemies, who blame it for any number of 'the-sky-is-falling' woes, but also from a generally under-informed public which views it in a variety of ways—as a link to the more powerful "international community," or an idea more vague and aspirational, or even as a Trojan Horse, as it is viewed by some—all of which, of course, being popular views held by the public, become subject to interpretation and manipulation for political purposes.
Finally, Leila Hilal's essay, "Business as Usual? The role of UNWRA in Resolving the Palestinian Refugee Issue," presents to the reader a very informative and interesting analysis of the role of UNWRA, founded as a temporary emergency humanitarian agency in the late 1940's, and how over time pressures have forced the expansion of the agency's activities, while at the same time it has to date resisted engaging publicly in a campaign for durable solutions.
Each of these 14 very readable essays presented in this very remarkable volume—UNRWA and Palestinian Refugees: From Relief and Works to Human Development—is an important contribution that gives all of us a better understanding of the Question of Palestine as well as the role and work of this vital, lifesaving, enormously successful UN agency. It is a book that will, one hopes and imagines, become an enduring and important resource in libraries internationally and a tool for those actively working to achieve justice for Palestine.