The resilience of protesters yesterday unveiled the US attempts to seize Arab revolutions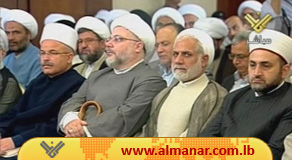 Hezbollah Secretary General Sayyed Hassan Nasrallah saluted in a speech at the opening of the conference on innovation and intellectual diligence in Imam Sayyed Ali Khamenei's view the protesters who gathered courageously yesterday on the 44th anniversary of Naksa Day at the borders of the occupied Syrian Golan.
"We must stand with dignity and great appreciation for the Palestinians and these young people who gathered yesterday and their insistence on confrontation," Sayyed Nasrallah said adding that this pure blood is a new witness on the political and historical awareness dedicated by Imam Khomeini and then Imam Khamenei.
Sayyed Nasrallah said that the resilience of this nation unveiled the US administration's attempt to confiscate the Arab revolutions and America's commitment to Israel's security.
IMAM'S AGGRIEVED PERSONALITY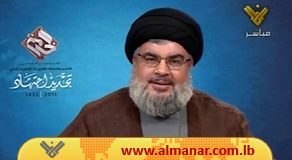 His eminence started his speech with an introduction on the Islamic Revolution leader in Iran Sayyed Khamenei's aggrieved personality that should be studied in all its dimensions.
"We find ourselves in front a great and exceptional personality who is aggrieved by his nation and even in Iran. Even in the political dimension of his personality, because he's encircled by enemies, our responsibility is to introduce the nation on this great Imam," his eminence said. "This is the very important and sensitive mission of this conference."
UNIQUE PREDICTIONS OF A UNIQUE IMAM
Sayyed Nasrallah also tackled the regional stages in which Imam Khamenei was the pioneer to predict the unpredictable, from the failure of the Syrian-Israeli settlement in 1996 to the Israeli demise in the near future.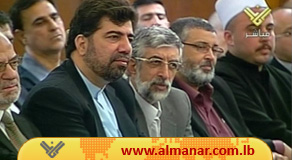 "In 1996, they told us do not bother yourselves and that there's no need to provide blood and sacrifices, but there was someone (Imam Khamenei) who called on us to arrange our issues and continue our Jihad and resistance on the basis that the Israeli-Syrian settlement won't be executed."
"In late 1999, Imam Khamenei told us that your victory in Lebanon is very, very close, closer than you would expect and this was unlike all the analysis and information that there were no preparations for any Israeli withdrawal," his eminence said.
"In the early days of July 2006 War, we received verbal message from Imam Khamenei telling us that we'll remain victorious and undefeated power after this war," Sayyed Nasrallah added.
US TO COLLAPSE, ISRAEL TO DISAPPEAR
The Hezbollah secretary general indicated that after September 11 events, Imam Khamenei told us not to be worried and that this is the beginning of America's collapse "and when they entered Iraq and Afghanistan this was the beginning of their end."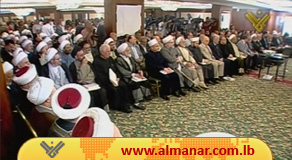 "He said that when the US is unable to protect its interests through regimes in the region or through armies and fleets and become obliged to enter all the fleets to the region, this is a sign of weakness," Sayyed Nasrallah said.
His eminence pointed out that Imam Khamenei was the leader of the confrontation in the most difficult war that needed a lot of reason, wisdom and courage and so far we cannot detect many of the aspects of this war.
Imam Khamenei believes that the demise of Israel is not so far away and that the compromise with Israel won't take place, Sayyed Nasrallah said, adding that what Imam Khamenei says on Israel can be understood when we realize US retreat and resistance achievements and assess the experience of July War and Gaza War, then we believe that the demise of Israel is very soon.