The British advertising watchdog banned a tourism advert of the Zionist entity after it discovered that the Old City of Jerusalem was described as a part of the so-called 'Israel.'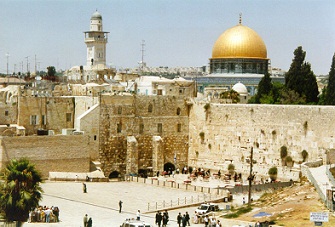 The British advertising watchdog banned a tourism advert of the Zionist entity after it discovered that the Old City of Jerusalem was described as a part of the so-called 'Israel.'
The newspaper brochure includes a photograph showing the golden Old City landmark and Muslim shrine the Dome of the Rock, with the text "Israel has it all."
Following a complaint, the Advertising Standards Authority ASA ruled the title of the brochure "Israel Land of Creation" and references to Old City attractions was misleading.
The international community regards the Old City as occupied Palestinian territory, while the Zionist entity has claimed it as part of its self-declared capital.
"We understood that the status of the territories in question was the subject of much international dispute," the watchdog said.
"We therefore considered the presentation of the ad would mislead consumers into believing that the Old City of Jerusalem was part of Israel and into taking a transactional decision that they would otherwise not have taken," it added.
Peace talks between the Zionist and Palestinian negotiators collapsed in April 2014 over the Zionist refusal to release a fourth group of Palestinian prisoners despite earlier pledges to do so.
The Zionist entity occupied East Jerusalem and the West Bank during the 1967 Middle East War. It later annexed the city of Jerusalem in 1980, claiming it as the capital of the self-proclaimed Jewish state in a move never recognized by the international community.
International law views the West Bank and East Jerusalem as "occupied territories," considering all Jewish settlement building on the land to be illegal.