Iran successfully executes the 2nd stage of "Great Prophet 6 Maneuvers", assures this is a message of peace to Iran's friends.
The Islamic Republic of Iran executed Tuesday the 2nd stage of "Great Prophet 6 Maneuvers", and fired 14 surface-to-surface missiles including Zelzal (Earthquake), Shahab1, Shahab2, and Shahab3.
"Great Prophet 6" spokesperson colonel Qalij Khani said that "the locally manufactured missiles silo has accurate and complicated technicalities that were used for the first time in Iran, and cover the entire Iranian land."
Al-Manar correspondent in Tehran Hasan Haidar said that "the 2nd stage of the maneuvers has begun Tuesday and will go on for four days… they include equipping and deploying forces, and preparing for firing missiles."
He further indicated that "during the first stage of the maneuver that was executed Monday, long-range ballistic missiles were revealed… military leaders in Iran assured that trenches and platforms were widely distributed underground… they also emphasized that they were distributed in locations the enemy wouldn't expect and the satellites wouldn't trace."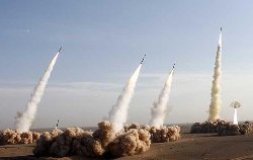 Al-Manar correspondent added that "missiles were fired heavily today. Iranian Revolutionary Guard Corps Air Units Commander General Amir Ali Hajizadeh stated that Iran's defense strategy included attack plans, considering that attacks sometime are the best way to defend."
Moreover, he quoted IRGC Deputy Commander Hussein Salemeh as saying that "the maneuvers are a message of peace to Iran's friends. They reveal Iran's modern technicalities, and urge the enemy to disregard any military action against Iran as it is capable of defending itself."
Iran has successfully experimented Monday firing missiles from its remotely controlled underground silo, which enables the army leadership of firing missiles faster and farther.