Radical Zionist figures were major participants in "Syrian" opposition meeting in Saint-Germain in France. Defending Zionism and ignoring Palestine and the Golan Heights dominated speeches.
Key Zionist philosopher Bernard-Henri Levy; former French Minister of Foreign Affairs, and major advocate of the war against Iraq Bernard Kouchner; member of the youth movement in the Israeli right wing Likud party Frederick Ansel; and former Knesset member and Israeli Defense Minister Ehud Barak's advisor Alex Goldfarb who was not questioned by anyone for claiming to be a Syrian opposition member and spokesman of "Democratic change in Syria" assembly; were basic participants in the Syrian opposition conference in Saint-Germain in France.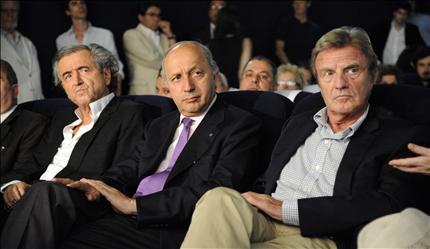 This "Zionist" atmosphere did not bother the attendees, which Muslim brotherhood representative in Paris, Moulhem Droubi, was among. One young Syrian girl "Souraya" interposed saying: "In this hall there is not one Syrian. In this hall, I only see Zionists." However, she was immediately interrupted and dragged out by the French security under the eyes of the police.
According to the Lebanese daily As-Safir reporter in France Mohammad Ballout, Frederick Ansel responded to the young girl saying: "Unfortunately, some Arabs still regard Zionism as an insult, although it is a source of pride and honor."
The Syrian opposition conference on Monday included speeches that called for toppling down the regime, and attacked Iran and Hezbollah, while completely ignoring occupied Palestine and the occupied Golan Heights.
Some speakers condemned "Iran and Hezbollah's interference in Syria."
However, representative of the so called "Salvation Front" headed by former Syrian vice-president Abdul Halim Khaddam, Ashraf Al-Moqdad called for "urgent assistance of Western countries," and defended the participation of racist Zionist figures saying: "We are ready to meet with anyone in order to stop the bloodshed in Syria. The Syrian regime had conducted negotiations with Israel directly and indirectly. Then why can't we meet with French officials who want to help the Syrian people? "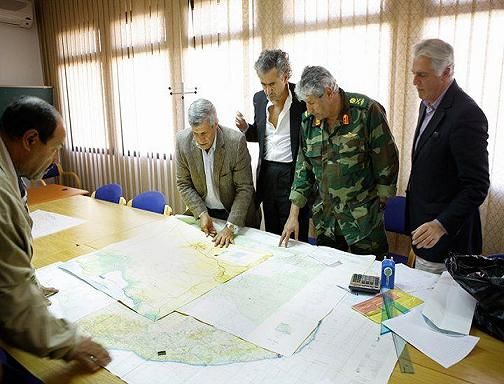 For his part, Zionist Journalist Bernard Henri-Levy called in a statement the Security Council to refer the Syrian regime to the international tribunal. While Bernard Kouchner went further by saying that the international community should intervene militarily in Syria.
"We went to Libya, and we feel great injustice for leaving the Syrians alone," he said, calling on "Arab spring" countries to end diplomatic relations with Syria.
Supporters of Syrian President Bashar Al-Assad's regime as well as opposition activists protested outside the conference location, against opposition parts that do not hesitate to cooperate with Israel to fulfill an apparently international agenda.