Cuban President Raul Castro arrived at the Vatican on Sunday to thank Pope Francis for his role in brokering the rapprochement between Havana and Washington.
Cuban President Raul Castro arrived held an audience at the Vatican with Pope Francis, who helped broker Cuba's recent rapprochement with the US.
"I thanked the Pope for what he did," Mr Castro said, adding: "I will resume praying and turn to the Church again if the Pope continues in this vein."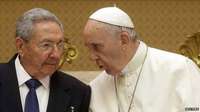 The Communist leader had stopped off in Rome after attending Russia's WW2 Victory Day parade in Moscow.
The first South American pope played a key role in secret negotiations between the United States and Cuba that led to the surprise announcement in December that they would seek to restore diplomatic ties after more than 50 years of tensions.
Pope Francis arrived ten minutes ahead of Castro, while a dozen unformed Swiss Guards stood to attention in front of the building when the limousine bearing the Cuban flag arrived.
The Holy See has said the Argentine pope personally mediated between the two sides, and the Vatican hosted delegations from the two countries in October.
US theologian Miguel Diaz, a former ambassador to Vatican, said Francis would reprise the words of Polish pope John Paul II, who made a historic first papal visit to Cuba in 1998.
Castro's stop at the Holy See, announced only Tuesday, follows a visit to Russia, where the Cuban leader attended a grandiose World War II victory parade on Saturday.
He will meet Italian Prime Minister Matteo Renzi in Rome later on Sunday.
The Vatican announced last month that Pope Francis would visit Cuba in September, becoming only the third pontiff to do so after John Paul II in 1998 and Benedict XVI in 2012.
Francis will go on from Cuba to the United States and a meeting with President Barack Obama.