Seven people were killed on Monday in the Saudi bombing that targeted the border areas of Hajja province.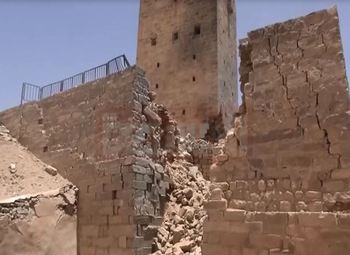 Seven people were killed on Monday in the Saudi bombing that targeted the border areas of Hajja province, Yemen Now news website reported.
In Saada province, one person was killed and many others were injured in a Saudi-led attacks on Dahyan city, while two women were killed and ten others wounded during three raids targeting a house In the Khafji area.
In addition to the raids over Saada, the Saudi warplanes launched eight consecutive air raids on Mathab city in the district of Safraa.
According to the Yemen Press website, the Saudi military jets also raided the historic Dam of Marib, leaving a number of victims killed or wounded.
Being the most ancient and the most important dam in the Peninsula, Marib Dam is believed to be the most important heritage of the Yemeni culture.
The Antiquities Authority of Yemen vowed on Monday to sue the Saudi regime for the dam bombing, considering it a breaching of international conventions, the latest of which was a call by the UNESCO to avoid the humanitarian heritage sites from being military targets, whether directly or indirectly.
"This criminal actions reflect the Saudi Arabia's hatred towards the history of Yemen, and its will to eliminate it," the authority said in a statement, calling on the concerned parties to interfere and protect the humanitarian heritage in Yemen.
In the meantime, huge explosions took place in the capital Sanaa after striking the Naqam Mountain, east of the city. targeting the weapons stores located in it.
Domestic media outlets - citing medical sources - reported that 8 civilians were killed and 20 others wounded as the Saudi-led strikes hit the arms depots.
Meanwhile, the United Nations Human Rights Watch group accused Saudi Arabia and its allies of using cluster weapons in their aggression against Yemen, urging the aggressor to stop the military campaign.
Yemen has been since March 26 under brutal aggression by Saudi-US coalition. Thousands have been martyred and injured in the attack, with the vast majority of them are civilians.
Riyadh launched the attack on Yemen in a bid to restore power to Yemen's fugitive president Abd Rabbuh Mansour Hadi who is a close ally to Saudi Arabia.