Hezbollah Secretary General once again voiced his party's backing to the leader of the Free Patriotic Movement (FPM) as a presidential candidate.
Hezbollah Secretary General once again voiced his party's backing to the leader of the Free Patriotic Movement (FPM) as a presidential candidate.
"General Aoun is the presidential candidate; he is a powerful candidate who enjoys wide-based representation," Sayyed Nasrallah said.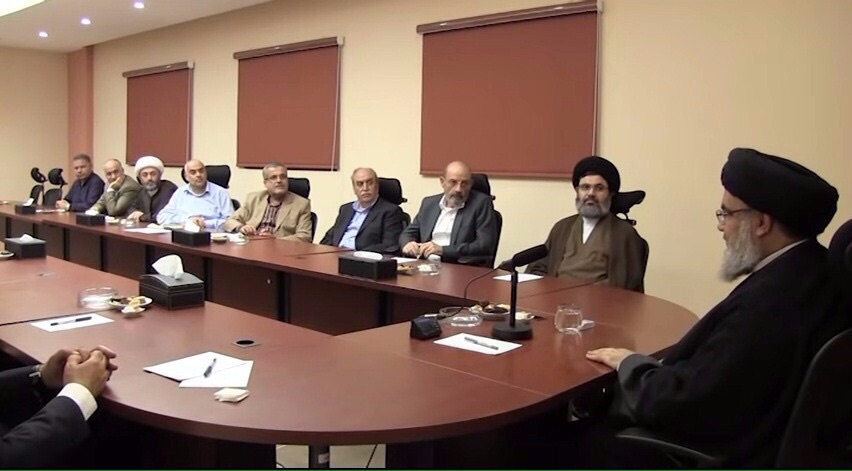 His remarks were made during a meeting with the board of trustees, head and deans of a new university in Beirut's southern suburbs (Dahiyeh), al-Maaref, Hezbollah Media Relations said in a statement on Wednesday.
"We were, we are still and we will keep on supporting this candidacy," Sayyed Nasrallah said in the meeting which was also attended by the head of Hezbollah's Executive Council, Sayyed Hashem Safieddine.
Hezbollah S.G. meanwhile, said that the term of "mandatory passage" doesn't change the party's commitment to the candidacy of General Aoun.
"In order to come to grips with the strong position that was displayed in this internal equation by the side of the Free Patriotic Movement, the Reform and Change Bloc and General Michel Aoun, they went to the place where they interpreted it in a way that served attenuation, although the statement does not indicate that, and this is one of our problems with them, because when you say General Aoun is a mandatory passage for the presidential election, it does not mean that he is no longer a candidate, for he is a mandatory passage whether he is a candidate or not. In other words it is more general; thus, what I did was that I established him as a mandatory passage; this does not imply that he is no longer a candidate, i.e. the statement can not be interpreted this way neither in logic nor in understanding, but they want to explain things as such."

"Therefore, we are concerned today to emphasize that there is no change or adjustment in our position. General Aoun is a natural candidate, a strong candidate who enjoys a broad-based representation; we were, are still, and will keep supporting this nomination, and the "mandatory passage to elections" statement does not make any difference, change, affect or weaken the strength of this adoption and this commitment."


Sayyed Nasrallah also spoke of the importance and role of the university, its being a necessity for knowledge and science, besides providing the scientific competences and staff needed by the country and its future.

He emphasized that this university was not a substitute for any of the other universities, but rather a real serious university concerned with academic and educational levels, coupled with the human and national values and ethics.

His Eminence also stressed that high hopes were pinned on the launch of this university, which is expected to provide a wonderful elevated model; although it may need to go through phases to grow, develop and expand gradually, as was the case of the resistance, which has provided a model and developed day by day.

Addressing the delegation, he said:

"Our bet on you is immense, and we are at your side to support and aid you, but the burden is on you. Now you are the frontline at the university, while we are behind the front, and our role is supportive. You will shoulder, Allah willing, this responsibility, which is very large. We hope that the Knowledge University can provide an elevated model on the scientific level, at the academic level, and at the level of the students' education, besides the fields of specialization, plus combining moral and human values, and the spiritual level as well as the scientific level, so as to be a university that produces knowledge and serves as a basis to build on every level, Allah willing."