Having already delivered anti-aircraft systems and tanks to Syria, the Russian government is now in discussions for the delivery of submarines and fighter jets to the Arab country.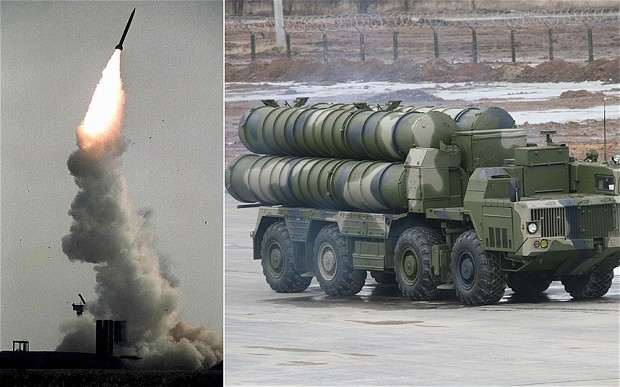 Having already delivered anti-aircraft systems and tanks to Syria, the Russian government is now in discussions for the delivery of submarines and fighter jets to the Arab country, Anadolu Agency revealed on Friday.
"Russia is intensifying its arms deliveries to Syria," said Nikolai Kozhanov, a visiting scholar at Chatham House in London, told the agency on Thursday.
"Moscow greatly fears destabilization in the Middle East, which it fears could spread should the situation in Syria come to resemble that of Libya today."
"It is very important for Russia to show the world that it is still a great power," explained Pieter Wezeman, a senior researcher at the Stockholm International Peace Institute in an interview with Anadolu Agency on Friday. "Support for the beleaguered Assad regime is an important means for the Russian government to do this, even when it must provide the funds for the regime to make the arms purchases."
Both Kozhanov and Wezeman agreed that there is a lack of up-to-date and accurate statistics about Russian arms deliveries to Syria. According to the Winter 2013 issue of Index of Security published by Moscow-based PIR Center: for Syria, the volume of Russian arms deliveries in 2008-2011 amounted to $1.49 billion which is expected to rise $2.24 billion in 2015, provided that, force majeure circumstances do not violate these plans."
According to details published by Index of Security 'in 2010, Russia has completed a contract to supply thirty-six Pantsir-S1 air defense missile systems to Syria. Negotiations continue on a number of potential projects, in particular for supply of two diesel-electric submarines, MiG-29 SMT fighter jets and Yak-130UBS aircraft, and upgraded S-125 Neva surface-to-air missiles.
The ongoing Russian assistance to Syria deals with 'supply and modernization of helicopters, heavy armored vehicles, tactical missiles, various types of surface warships and other weapons.
By late 2013, supply contracts under implementation involved supplies of SSI 24 MiG-29M / M2 fighter planes and 36 Yak-130UBS trainer jets, but their delivery encountered extreme difficulties because of the blockade of transportation routes by Western countries, according to Natalia Kalinina, senior research fellow at the Center for International Security Studies at the Institute of World Economy and International Relations.
The two sides also concluded agreements for Russia to supply Buk-2ME air defense missile systems, S-300PMU-1 and the Tor-M1 missile system
In May 2014, Russia announced that it will supply Syria with Yakovlev Yak-130 advanced jet trainer aircraft, according to Kommersant. Syria was scheduled to receive nine aircraft by the end of 2014, twelve in 2015 and fifteen in 2016, for overall of 36 airplanes".
In mid-2014, Kommersant, citing the Russian Agency for Defense Exports, reported Syria will start to receive by the end of the year the first batch of Yak-130 trainer aircraft for which Syria has already paid in advance $100 million in June 2013, according to the terms of a contract signed in Dec 2011.
Russian commentators say that Western analysts need not feel alarmed over the presence of Russian weapon trainers and military advisors in port towns of Tartus, Lattakia and Banias. It should be seen as Russia's fulfilling its previous contractual obligations.
Alexander Aksenyonok, the most senior Russian diplomat specializing in Syrian affairs, told the Russian news site Gazeta.ru on Sept. 13 that Russian advisers were in Syria to help prevent the country's breakup, to protect minority groups, and to preserve Russian presence at the Syrian ports.
According to Aksenyonok, for Russia "the primary objective is to prevent the collapse of state institutions in Syria. Otherwise a 'Somalization of Syria' may take place if militant forces either from ISIL or other organizations take power."
Aksenyonok said that the technical supply facilities at the port of Tartos should not be described as a military base. He admitted that there has been an increase in the number of Russian advisors who were there to make sure that the Syrian soldiers were able to make efficient use of the supplied weaponry.
He pointed out that the Russian advisors were helping the Syrians to organize a line of defense.