Supreme Leader of Islamic Revolution of Iran Grand Ayatollah Sayyed Ali Khamenei, said on Sunday that negotiation with the US on regional issues is meaningless.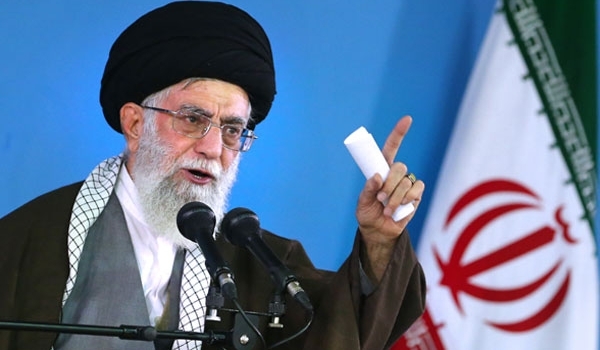 Supreme Leader of the Islamic Revolution of Iran Grand Ayatollah Sayyed Ali Khamenei dismissed on Sunday chances of foreign countries bartering a deal over Syria's future, suggesting they should focus on securing a halt to fighting that allows fresh elections.

Addressing a meeting attended by Foreign Minister Mohammad Jawad Zarif along with Iranian ambassadors and charge d'affaires stationed abroad, Ayatollah Khamenei warned against 'dangerous precedence' of alien decision on Syria's government system, repeating his ban on direct talks with the United States about turmoil in the Middle East.

"Negotiation with the US on regional issues is meaningless. The US policies are the reason behind the mess in the region, and the United States is part of the problem and not the solution," Sayyed Khamenei said.

Addressing the Syrian crisis and the recent Vienna talks, his eminence stressed that the best way to solve the crisis is to stop the military and money support for the armed takfiri groups, principally from Gulf states and the US, and to run for elections.
"The Americans seek to impose their own interests, not solve problems. They want to impose 60, 70 percent of their will," his eminence said.

Moreover, Ayatollah Khamenei appeared to suggest the debate over Assad was unhelpful, reiterating that the eventual solution is a ballot.

He said Syria's people must choose who their leader would be, rather than the US and other foreign powers trying to decide for them.

"There's no point in other countries getting together and deciding about a system of government and the head of that state," the supreme leader said.

"This is a dangerous innovation which no government in the world would accept being imposed on itself. The solution to Syria's problem is elections," his eminence added.

"The war and mess that are going on in Syria must stop first so that the Syrian people can choose their president in a secured atmosphere," Grand Ayatollah stressed.
Iranian ambassadors to foreign countries and envoys to international organizations are scheduled to hold a conference in Tehran this week.

It will be the second such conference since President Sheikh Hassan Rouhani took office in August 2013.

The Iranian diplomats will discuss issues pertaining to Iranian foreign policy and the latest regional developments.

They will also review the impacts of the Joint Comprehensive Plan of Action reached in July between Iran and the six world powers.

President Rouhani is scheduled to deliver a speech at the opening ceremony.