Lebanese security forces raided terrorist dens in northern region and seized materials capable of making 100 explosive belts.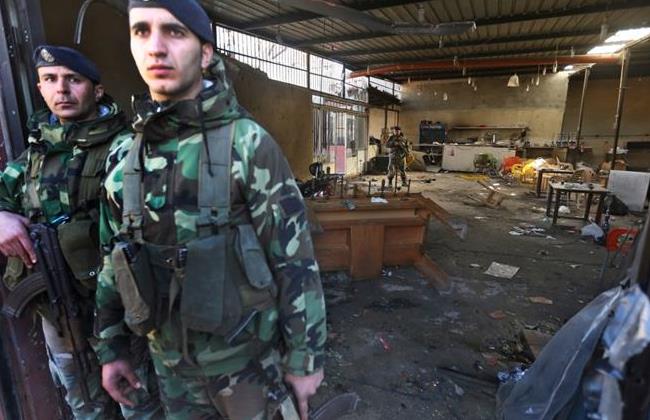 The Lebanese Army Wednesday arrested seven Syrians and seized dozens of motorbikes and two pickup trucks during raids on makeshift Syrian camp sites in the eastern city of Baalbek, state-run National News Agency said.

It did not say how many people were arrested in the Baalbek town of Hawsh al-Arab. However, local websites said at least 20 individuals were apprehended.

NNA said two pickup trucks loaded with motorbikes were also seized during a separate raid on a makeshift Syrian refugee camp in Hawsh al-Nabi.

Another three pickup trucks reportedly used to transport Syrian workers were also confiscated.

The seized vehicles were taken to the Lebanese Army barracks in Baalbek.

Earlier on Tuesday, the Internal Security Forces' Information Branch seized weapons and explosive belts in the northern city of Tripoli after receiving a tip on potential suicide bombers hiding in the neighborhood of Qibbeh.

The Information Branch managed to dismantle a terrorist network that was behind the Burj el-Barajneh suicide bombing in Beirut's southern suburbs, and arrested the "secretary of the warehouse" of the explosives named Ahmed M. - aka Abu Othman - and seized a large amount of explosive belts and detonators. It also arrested two people communicating with him and with the arrested would-be suicide bomber Ibrahim Jamal (who was planning to blow himself up in Jabal Mohsen neighborhood in north Lebanon).

Sources told local daily Assafir that the technical department of the Information Branch managed to identify the person who was recruited by the so-called 'Islamic State of Iraq and the Levant' (ISIL) takfiri group to store the explosives and explosive belts and to deliver them later to the suicide bombers-to be.

This achievement has been reached out through analyzing the data of calls performed by the detainees days before the Burj al-Barajneh bombing, and after reviewing the contents of surveillance cameras deployed on the roads between Qarsita region and Tripoli city, passing by Dinniyeh neighborhood where the arrested would-be suicide bomber al-Jamel was residing.

Moreover, sources suggested that Abu Othman had handed three explosive belts to al-Jamal and the other two suicide bombers who carried out the Burj el-Barajneh attack in the region of Qibbeh at dawn last Thursday, before moving to their second destination in the capital Beirut.

Based on the collected data, Information Branch arrested Abu Othman Tuesday evening from his work in a restaurant parking. Shortly after that, it raided his home in al-Qibbeh and seized four explosive belts prepared for explosion, which are as the same quality as the belt found with the arrested al-Jamal and the belts used in the Burj el-Barajneh bombings.

The security forces also found 250 kilograms of explosives, around 500 detonators, and bags containing metal balls placed with the explosive belts, each bag weighs five kilograms, in addition to wires, bombs and various weapons.

Sources said that Abu Othman is expert in equipping explosive belts, and that the amount of explosives found at his home is capable of producing about one hundred explosive belts.

The army also detained several Syrians during a raid on a residential complex for Syrian refugees in the Wadi Khaled area near the border with Syria.

Security forces in Lebanon have stepped-up chasing offenders following last week's dual terrorist suicide bombing that rocked a heavily populated neighborhood in Beirut's southern suburbs, that killed 43 people and wounded more than 200 others.

Interior Minister Nouhad Machnouk said Sunday seven Syrians and two Lebanese have been arrested in connection with the bombings, while General Security added that it had arrested a Lebanese man, identified as Ibrahim Ahmad Rayed, and a Syrian, identified as Mustafa Ahmad Jaref, who had funded and planned the ISIL-claimed Burj al-Barajneh crime.