Hezbollah Secretary General Sayyed Hasan Nasrallah said the Israeli enemy in its attempt to beat the resistance elements of strength went on targeting Syria, deploring the Saudi contacts with 'Israel' which come out to public
Hezbollah Secretary General Sayyed Hasan Nasrallah said the Israeli enemy in its attempt to beat the resistance elements of strength went on waging a war against Syria, deploring the Saudi contacts with 'Israel' that started to come out to the public.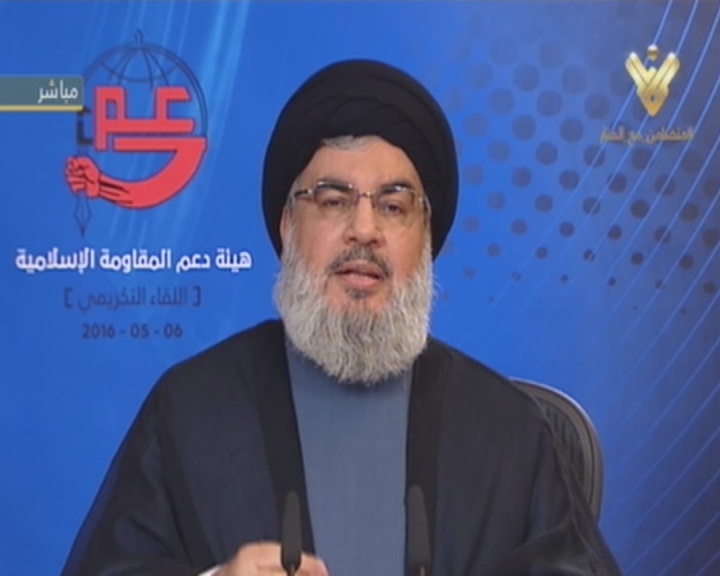 During a ceremony held by the Islamic Resistance Support Organization on Friday, Sayyed Nasrallah said the resistance incubator environment was one of the most important elements of strengths of this resistance. "This is why the US-Israeli side wanted to hit the determination and awareness of this environment to make it easier for them to monopolize this resistance and its fighters," Sayyed Nasrallah said.

"Targeting Syria was intended against the resistance as it was the main supporter for resistance groups in Palestine and Lebanon," Sayyed Nasrallah said, adding that "despite all the attacks, assassinations and wars, the resistance movements have emerged stronger."

His eminence warned that enemies today are trying to give momentum for this matter, "that's why we find today the excessive fall of masks among those who were serving 'Israel' behind closed doors earlier and people will know who is part of the US-Israeli axis in the Arab world. That's why some regimes moved to classify Hezbollah as a terrorist organization, aiming at undermining popular support and pushing people away from the resistance," the S.G. said.

Sayyed Nasrallah pointed out that some regimes, in addition to the US and 'Israel', are trying to tarnish the image of the resistance and accuse it of money laundering and this is all aimed at undermining popular support. "They tried to depict anyone who backs Hezbollah financially as a terrorist and sought to punish those who support the resistance so as no one would dare to support it for the purpose of drying the sources of money for the resistance," and pointed out that "those people believe that resistance would weaken if it was deprived of money and would easily be targeted in security and military."

"The Saudi regime today is trying to do so today."

Since 1980s, according to Sayyed Nasrallah, the resistance was under pressure and systematic targets, "but all schemes were futile and the resistance emerged victorious." "Resistance popular incubators who always support the resistance at all its states are the resistance's main asset. We have lived with them difficult conditions and were able to overcome it and we will inevitably overcome this situation."

Sayyed Nasrallah pointed out that the excessive pressure against countries supporting the resistance movement was normal. "This is taking place now against Iran by opening up new files after the closure of the nuclear file," he added, "We do not want to embarrass anyone in providing any support whatsoever, but we trust those who support us and build upon their positions during all past experiences." "With our resolve and will, we will overcome this battle and we are getting more faithful and certain that we are on the right path and in the right confrontation."

"The positions of the Leader of the Islamic Revolution Sayyed Ali Khamenei and all Iranian officials, whatever their political views are, categorically and decisively support the Islamic resistance movements and all the financial support Iran has been offering to the resistance movements will continue whatever the pressures and challenges are," Hezbollah's S.G. said.

"Just as Imam Khamenei supports us financially, morally and culturally, we say to him 'Our leader and Imam be reassured and comfortable," his eminence said, hailing Iraq, Tunisia, Algeria and Indonesia on their positions with the resistance.
Concerning the Saudi performance in the region, Sayyed Nasrallah made clear that the Saudi regime today is spearheading the current scheme against the region. The Arab League has fabricated a terror list because of us. All this is expected and we are still in our best condition."

"Saudi-Israeli contacts are intensifying and a key prince from the ruling family is meeting with Zionist figures and in Saudi Arabia they are preparing the atmosphere for boosting the contacts with 'Israel'. These contacts have started to surface after it was described as individual cases or that it falls within the framework of 'freedom of opinion'," referring to a recent meeting between Saudi Prince Turki Al-Faisal and Israeli officials in Washington. Faisal had also held a debate with Israeli Maj. Gen. (ret.) Yaakov Amidror Thursday night where he expressed desire for a comprehensive cooperation with the Zionist entity.

His eminence indicated that the two islands, Tiran and Sanafir, which were granted by Egypt to Saudi Arabia will open a door for declared coordination between Saudi Arabia and 'Israel'.
As Sayyed Nasrallah said "we do not expect a position from Saudi Arabia for what is happening in Gaza," he pointed out that "all the Saudi efforts are exerted on consolidating hostility towards Iran and all the resistance forces." "Saudi Arabia is working on escalation in Yemen and Syria," he said explaining that Saudi Arabia goes to the negotiation table under pressure and when they do not achieve their goals they sabotage it.
"Don't be deceived, there are no near solutions to conflicts in the region. We will see harder times in the upcoming few months as long as Saudi Arabia is pumping money," his eminence said.

Shifting towards Yemeni talks, he said the other side was listing items for surrendering on the opposition delegation, as if the Yemeni opposition were defeated on the ground. Sayyed Nasrallah wondered whether the Syrian opposition would be able to defend Damascus if it gained power in front of ISIL and Nusra attacks. "In Kuwait, Saudi Arabia is trying to impose surrender terms but the Yemeni answer was clear: 'We came here to negotiate, not to surrender'. In Geneva, the Syrian opposition delegation, that is subordinate to Riyadh, procrastinates then goes to the negotiations and says 'cede power to us'. If these mercenaries rise to power, will they be able to prevent the fall of Syria into the hands of ISIL (Daesh)and Al-Nusra [front]?

"Resistance fighters who have been fighting in Yemen for a year now and those who fought for five years in Syria won't surrender or pave the way for terrorist ISIL to rule their country," the S.G. said.

Sayyed Nasrallah warned that such scheme needs "more vigilance and steadfastness from our people," adding this scheme has been defeated and is meant to be crushed.
Concerning the municipal elections that will start this Sunday in Bekaa and Beirut, Nasrallah underlined the importance of the municipal polls, calling for effective and high turnout as he described municipalities as 'mini-governments'.
Elections in the Bekaa governorate are set to take place Sunday, along with the Beirut and Baalbek-Hermel governorates. However, Mount Lebanon elections were set for May 15, South Lebanon and Nabatieh for May 22, and North Lebanon and Akkar for May 29.
Sayyed Nasrallah warned people from presumption against candidates in the election and stressed awareness among parties and families, underlining the importance of political parties to participate in such elections. "Hezbollah and Amal movement participated in the Municipal polls in our villages and areas for the benefit of our families, elections are part of the political game. The participation of political parties in the municipal elections reduces the losses in the current circumstances."

His eminence urged resistance supporters for commitment to the party electoral lists, that was formed by Hezbollah and its allies, 'as a whole', pointing that effective participation was needed in the municipal elections and there should not be any despair.
"We cannot let the people form their own lists or then hundreds of lists will be established," his eminence stressed. "I am certain no one will be completely satisfied with any list but this is the best possible choice."

He added that after the elections, committees should be formed to deal with the 'wounds' and 'cracks' that occurred as a result of the elections.

As for the presidential elections in Lebanon, Sayyed Nasrallah said nothing was new regarding the presidential issue and that part of the solution is in Saudi Arabia and the other part is here in Lebanon.

On the other hand, Hezbollah leader thanked all employees at the Islamic Resistance Support Organization and hailed their efforts. "This body brings generations of all ages who work day and night tirelessly to assume their responsibilities in this great jihad work." He also thanked all shareholders and financial supporters who have provided aid for the resistance, whether it was in popular incubation or heartfelt prayers or political stances.