Hezbollah Secretary General Sayyed Hasan Nasrallah accused the US and its allies on Thursday of creating the ISIL terrorist group to destroy the spirit and will of the resistance, assuring they eventually failed to achieve that
Hezbollah Secretary General Sayyed Hasan Nasrallah accused the US and its allies on Thursday of creating the ISIL terrorist group to destroy the spirit and will of the resistance, assuring they eventually failed to achieve that.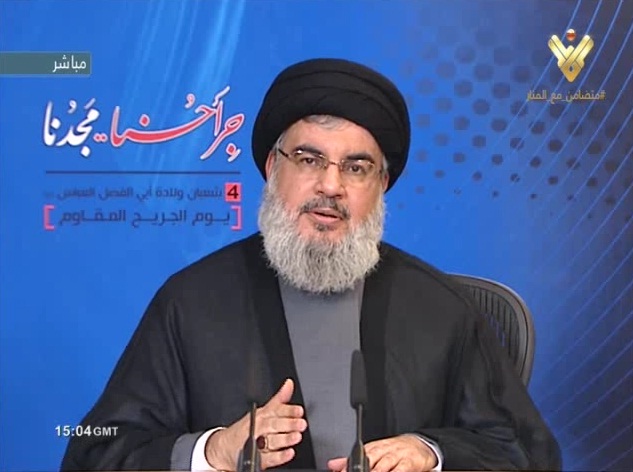 During a speech on The Day of Islamic Resistance Wounded Fighters held in Dahiyeh entitled "Our Wounded Fighters are Our Glory", Sayyed Nasrallah recalled the Nakba anniversary which Palestinians are still suffering from the outcomes and repercussions it caused till this day. He indicated that "there are those who try to push the nation toward oblivion of everything related to Palestine."

Sayyed Nasrallah pointed to the developments in 1948 that resulted in the Nakba when "the British supported by the West brought the Zionist gangs and established the Zionist entity displacing Palestinians from their lands." "And then Britain and the West recognized the Israeli entity and thrived to diminish the Palestinian people's rights," he continued.
"US Created Takfiri Gangs to Destroy Resistance Will"

And nowadays, Sayyed Nasrallah said, Washington and its allies from regional regimes brought the Takfiri gangs to "destroy what has remained of the spirit of resistance in our peoples, governments and movements." But he said there was a great difference between the current Nakba and the one of 1948. "There are groups that currently exist that will stand in the way of this new Nakba."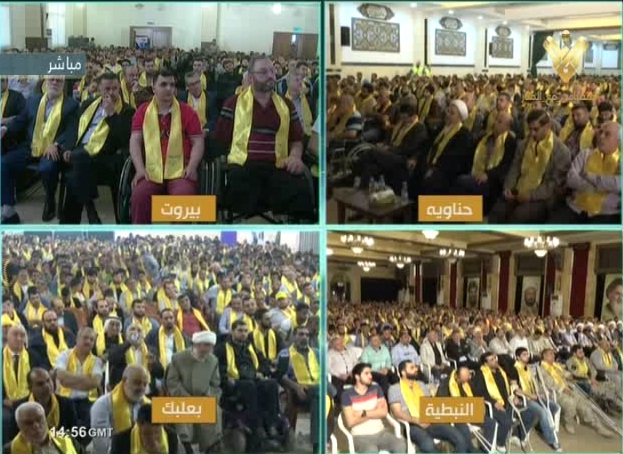 His eminence said the West has problems with movements and people who reject Israeli occupation of Palestine as well as foreign hegemony in the region. "They attempted to fight them through direct combat in Lebanon in 2006 and later in Gaza, but they failed."
But he said the resistance bore all the responsibility in facing the Zionist project. "Today there are men, women, armies and peoples in the region which are strong and are ready to destroy the American project here."
Addressing those who still doubt any US involvement in creating the terrorist groups, Sayyed Nasrallah cited a 2009 hearing in the US senate where Presidential hopeful Hillary Clinton, which was the US Secretary of State at the time, delivered her hearing in which she admitted that terrorist groups were created by the US for reasons related to their so-called 'security'.

In Hillary Clinton's own words: "We had this brilliant Idea that we were going to come to Pakistan and create a force of 'Mujahideen' and equip them with stinger missiles and everything else to go after the soviets inside Afghanistan and we were successful. The people we are fighting today, we funded 20 years ago."

"That was not a report done by the press but rather the words of Secretary of State who is now a candidate for US presidency. Today, the US, Israel and the West have a problem with our region that is the 'axis of resistance', and they are looking for ways to fight it," Sayyed Nasrallah said.

Hezbollah's S.G. also cited a CNN interview with the US General Wesley Clark back in the 2015 where he admitted that the US created ISIL in order to fight Hezbollah and distort its image!

In the interview, Clark said: ISIL got started through funding from our friends and allies. The only group that will fight Hezbollah is ISIL because they are "zealots" and resemble a "Frankenstein". "The terrorist group is part of a strategy to destroy Hezbollah with an army of extremists," the General said.

"And after all that, Hezbollah would be banned on satellite channels and websites unlike ISIL which is facilitated by the Americans, in order to present a bad image of Islam in order to frighten people and drive them to migrate and vacate the lands for those who the US want them to stay," Sayyed Nasrallah pointed out. "They said they wanted ISIL to control strategic territories and reach the eastern and western borders with Iran and even to infiltrate inside the Iranian territories, and Saudi Arabia is struggling towards this goal."
"ISIL Takes Pride in Killing Civilians"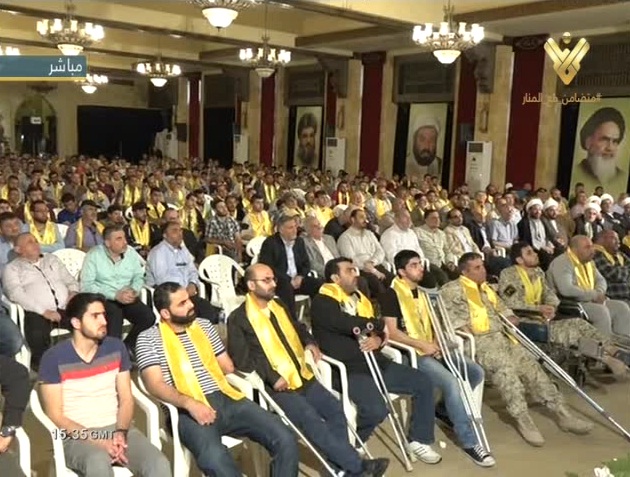 Sayyed Nasrallah condemned the recent Iraq attacks which have killed and wounded hundreds of people, pointing that they were the evidence of the newly Nakba (catastrophe) of the US. He also denounced the crimes committed by ISIL terrorist group which when incurs defeats on fronts, takes pride in avenging by killing civilians. "When ISIL gets defeated in Palmyra, it attacks Damascus. And when it loses in the eastern mountain range, it retaliates in Dahiyeh."
Addressing Muslims, His eminence said that "what's taking place in the region is not a Shiite-Sunni conflict, but a demolition to the awakening spirit through the terrorist groups they brought in." To Christians he said Washington didn't care about Christians or Muslims or even its own people when it comes to achieving what it wants, recalling what had happened to them because of the US strategies in the region. "Christians have paid the price in Iraq and the region, but not in Lebanon. The West is also starting to pay the price as we have seen in Paris and Brussels."
"We must all be up to the ongoing conflict, the battle with ISIL, Al-Nusra and others who were all brought by the West and US to destroy the axis of resistance. We understood the aspects of the battle and took our decision to confront. Here there are the resistance fighters inflicting losses and defeats to the US scheme which didn't achieve its goals in Yemen, Syria, Iraq or Lebanon."
"We Won't Put Our Hands with Rivals in Municipal Elections"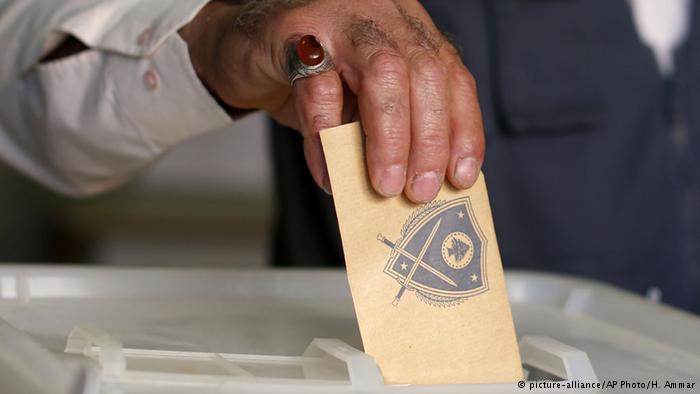 Shifting to Lebanon, Sayyed Nasrallah hailed the first stage of municipal elections that was held in Bekaa and Beirut for being successful despite some misunderstandings that should be solved later, hoping that the next stage would be held as smooth as the first one was.
He also thanked all people who voted for the "Loyalty and Development" List that was backed by Hezbollah and Amal Movement. "We don't consider other candidates in other lists as enemies unless they consider us as such."

His eminence said Hezbollah doesn't mind that its allies join alliances in the elections with our foes. "But we didn't and we won't do this. This is contradictory to our beliefs."

"Our ally the Free Patriotic Movement ran with the Lebanese Forces and other political rivals, and they are free to do so, the same thing our ally Amal movement did, but we won't. We are not bound to the alliances our allies side with and we won't stab our friends and allies in the back," he said, wondering why Hezbollah would side with those who have been waging media war against it.

"Concerning Beirut, we didn't take part in the municipal elections due to several reasons. One of which was that we didn't want to join our rivals and we prevented tension from happening. In Zahle, we also didn't side with anyone in the elections. We hoped that our allies agree on one list but it didn't happen."

On the upcoming polls in Mount Lebanon few days to come, Sayyed Nasrallah revealed that Hezbollah has formed a list in Dahiyeh that consists of Amal, FPM and Hezbollah, which was named the 'Development, Loyalty & Reform' List.
At the end of His speech, Hezbollah leader addressed the Islamic Resistance wounded fighters who were listening to his speech via huge TV screens in Beirut, Bekaa and South of Lebanon, Saying: "Your wounds are so dear. You should get ready for a new phase in your lives and secure your new moral and faithful level, your reward is greater than that of the resistance fighter. You are in a continuous jihad and you are responsible to preserve this path through missionary work or other useful jobs." Sayyed Nasrallah also recalled the injuries of Imam Abul Fadl Al-Abbas whose Birthday marked they Day of the Wounded Hezbollah celebrates each year.