Hezbollah Secretary Sayyed Hasan Nasrallah assured on Friday that the martyrdom of resistance leaders and the chaste blood of martyr leader Hajj Mustapha Badreddine would only add to its determination to continue in the battle.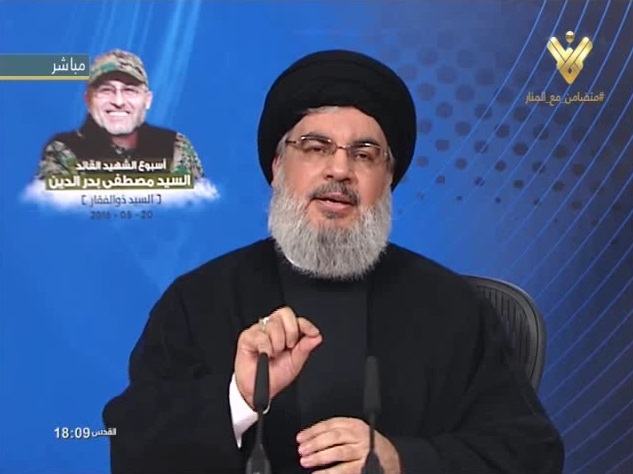 Hezbollah Secretary Sayyed Hasan Nasrallah assured on Friday that the martyrdom of resistance leaders and the chaste blood of martyr leader Hajj Mustafa Badreddine would only add to its determination to continue in the battle due to faith in its righteousness and in the coming victory.

In a televised speech that his eminence delivered for the passage of one week on the martyrdom of Badreddine, Sayyed Nasrallah considered that "our loyalty to the leaders and martyrs and our certainty in victory will frustrate this destructive Takfiri, American, Zionist, Saudi project... they will fail in their attempt to control Syria and the region and this project will be destroyed in Syria."

Badreddine: The resistance fighter, injured, leader and martyr

Hezbollah Secretary General initiated his speech by offering condolences to the honorable mother, wife, siblings and children of Badreddine and exposing some of the martyr's achievements throughout the past four decades.

"Sayyed Mustafa Badreddine was among the first people who joined this resistance... He was in the frontlines against the Israeli enemy in Khaldeh battle and was severely injured in his leg, an injury that accompanied him throughout his life, Sayyed Nasrallah explained, adding that "he took part in the formation of jiahdi groups and in training, equipping, developing, and managing them, and the outcome of all that was the pullout of the Israeli occupation from Beirut to Saida and later their retreat behind the so-called occupied borderlines."

"In 1996, Sayyed Zulfikar held the Central Military Leadership in Hezbollah and in 1999 he participated in developing the military capacity of the resistance until it achieved the great victory in 2000," His eminence added, pointing out that "one of the most significant challenges during his military leadership was the April war in 1996 in which the resistance stayed firm and frustrated the Zionist goals to later attain victory in 2000."

"Another significant achievement for Sayyed Badreddine was Ansariyah Ambush which he led in participation with martyr leader Hajj Imad Moghnieh... and he supervised the war media and had a leading military role during the 2006 aggression, to later hold several responsibilities after the martyrdom of Hajj Radwan."

Furthermore, Sayyed Nasrallah indicated that "Sayyed Zulfikar directly led Hezbollah units in Syria... First I prohibited him from going there in person and I asked him to lead the battle from Lebanon, but after he insisted, we let him go to the border area but not into Syria... after a while the martyr insisted on going to Syria refusing to lead the battle from a far distance, and since then he spent most of his time in Syria."

Hezbollah Secretary General revealed that "Sayyed Mustafa had a big role in dismantling the terrorist networks that sent explosives laden cars to Lebanon... he also made many achievements in exposing the Israeli agents networks in cooperation with the resistance security as well as the Lebanese Security apparatuses."

A martyr no matter where for the enemy is one

Sayyed Nasrallah stressed that "the resistance martyrs are martyrs no matter where they fell, whether in South Lebanon, Palestine, Syria, or Iraq... It does not differ for the battle is one and the enemy is one. We have a large number of martyrs in Syria who held significant positions but were not highlighted in media because they were not controversial figures. There is an ongoing campaign against Hezbollah and its figure, dignity and morale."

He pointed out that "facts on ground reveal the responsibility of Takfiri groups in the killing of martyr Zulfikar, and when facts show the responsibility of the Zionist enemy in any operation we would not hide that... Even in our psychological war, we don't lie and we don't make political accusations even against our enemy. Our background states clearly that we do not cower or fear when the Israeli attacks us," warning the Zionists that "if you target any of our mujahedeen we will have a clear and direct response no matter what the consequences were, and it will be outside Shebaa Farms."

Referring to the International Tribune, Sayyed Nasrallah affirmed that "we have previously stated that it was an ineffective, politicized one that is being used as a weapon to target the resistance. Therefore, everything related to it does not concern us."

On the War on Syria and its Goals

Sayyed Nasrallah indicated that "day after day facts are unveiling and confessions as well as documents are being revealed about the goals behind the battle on Syria and the role of the US and the West in it along with their regional allies and those who took advantage of the groups, funded them, facilitated their arrival to Syria, and armed them."

He added that "everyone is aware that Saudi Arabia is inciting, arming, and bringing fighters into Syria and is leading the operations from its operation room in Jordan."

"Saudi is demanding a new doctrine in Syria. Is there a doctrine in Saudi Arabia in the first place? Saudi is demanding parliamentary election and early presidential election in Syria. Are their elections in Saudi? Saudi is demanding reforms and freedoms in Syria. Does anyone dare to ask for reforms in Saudi?" his eminence explained, noting that "in Saudi they whip 1000 times anyone who dares to write someone on Twitter."

In this context, Sayyed Nasrallah considered that "if President Bashar Al-Assad stated today that he was ready to serve the American project, this entire war will be over."

On another hand, he revealed that "a few weeks ago Sayyed Mustafa and his brethrens were studying the option of cleansing the airport road region... Today, the Syrian Army and its allies were able to push away most of the threats that where on the airport road and Sayyeda Zeinab area."