ISIL stronghold of Fallujah has been surrounded thanks to aerial forces that provided cover for ground advance
ISIL stronghold of Fallujah has been surrounded thanks to aerial forces that provided cover for ground advance, Iraqi General Hamid al-Maliki said in a video released by the Ministry of Defense.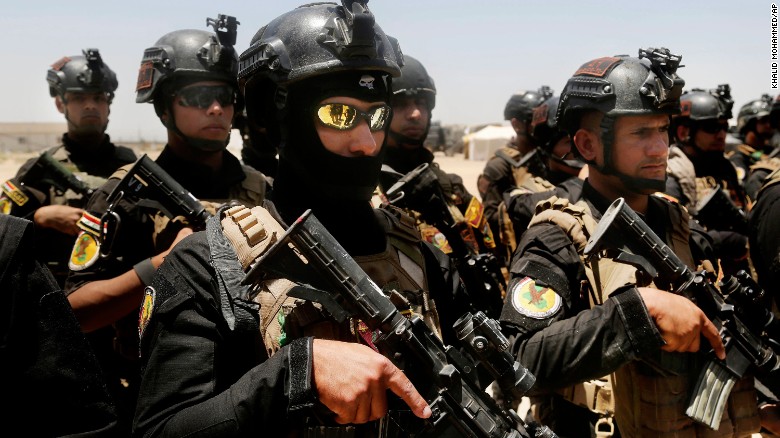 The next step in the military's plan is to push into the heart of the city and drive the militants out, which may be the most dangerous part of the operation.

Al-Maliki says that aerial forces have provided cover for ground operations, helping to take out ISIS fighters and destroy their equipment.

Several top ISIL commanders of the Takfiri ISIL terrorist group have been killed along with a number of other militants in an Iraqi aerial attack in the western province of Anbar.

In a statement released late on Monday, the Iraqi Joint Special Operations Command said Iraqi bombers hit their gathering in the town of Qaim.

Among those killed was a high-ranking intelligence director who was a close ally to the so-called leader of the terrorist group, Ibrahim al-Samarrai, aka Abu Bakr al-Baghdadi, it said.

"With God's blessing we have launched the third phase of the operation to storm the center of Falluja city -- by our heroes in the counterterrorism forces, units of the Iraqi army and Anbar police," Rasoul said. "There is heavy air cover for this operation from our heroes in the Iraqi air force and the coalition."

Iraqi forces, backed by the Popular Mobilization Units, started their operation to retake the ISIL stronghold about 65 kilometers (40 miles) west of Baghdad, first targeting outlying settlements, Iraqi military spokesman Yahya Rasoul said on Iraqi state TV.

Iraqi forces retook the village of Nuaimiya, just south of Falluja, closing in on the city itself, al-Iraqi TV reported.

Earlier Monday, Iraqi military units and supporting militia captured a handful of settlements from ISIL near Falluja, including the town of Saqlawiya, about 10 kilometers (6.5 miles) northwest of the city, and the villages of al-Buaziz, al-Bu Efan and al-Shiha, north and west of Falluja, state-run TV reported.

Capturing Karma, about 16 kilometers (10 miles) northeast of Falluja on Thursday, brought most of the territory east of the city under government control.
Kurdish Offensive against ISIL in Mosul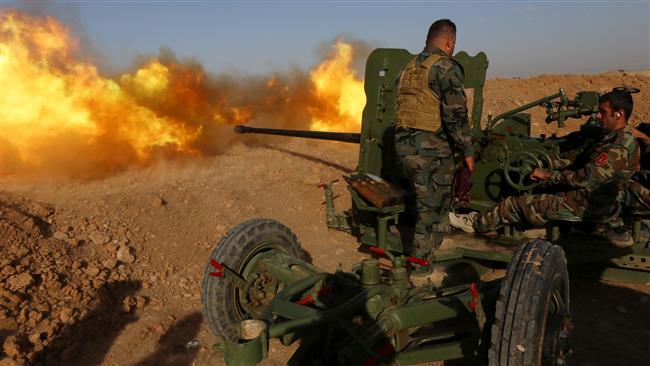 Farther north, thousands of Kurdish Peshmerga troops are involved in an offensive to retake formerly Kurdish villages near the ISIS-held town of Mosul, Kurdish officials say.

The Peshmerga-led ground offensive, backed by coalition air support, was launched early Sunday to recapture villages near Khazir, east of Mosul. The move comes ahead of a joint offensive by Kurdish forces and Iraqi troops to take back Mosul, Kurdish media said.

Arif Tayfour, a spokesman for Peshmerga forces, said on Monday that his fellow fighters have killed 140 Daesh members over the past two days and purged more than 130 square kilometers of the area of the terrorists.
ISIL Lashes out on Civilians
As a result of ISIL terrorism, hundreds of people have fled the city and its surroundings since the Falluja offensive began last week. More than 500 families have arrived in displacement camps outside the city, the Norwegian Refugee Council said, including almost 300 since Sunday afternoon alone. All the recent arrivals are from Jumeila on the city's outskirts.

ISIL terrorist group has lashed out with attacks on civilians in Iraqi and Syrian cities.

Three blasts shook parts of the Iraqi capital Monday morning, according to Iraqi security sources. No group immediately claimed responsibility. A bomb in a market in Baghdad's al-Shaab neighborhood killed seven people and wounded 20 others. A separate explosion in Sadr City killed another two and wounded 10.

A suicide car bomber tried to ram into a police station in al-Tarmiya but was stopped from reaching the target. He detonated the bomb, killing himself and causing material damage but no other injuries, sources said.

Furthermore, ISIL extremists have abducted 100 young residents of Fallujah, located roughly 69 kilometers (43 miles) west of Baghdad, on trumped-up charges of not growing beard and refusal to join the ranks of the militant outfit in battles against government forces and allied Popular Mobilization Units fighters.