Israeli occupation troops on Tuesday killed a Palestinian and wounded two others in West Bank, as they demolished a Palestinian house also in West bank.
The Israeli occupation army said Tuesday troops may have mistakenly killed a 15-year-old Palestinian and wounded others in the occupied West Bank.
The Israeli media claimed that overnight shooting followed stone-throwing at cars in the West Bank.
Occupation soldiers opened fire on what they "believed to be suspects", killing 15-year-old Mahmoud Rafat Badran and wounding four others, according to Palestinian official news agency WAFA.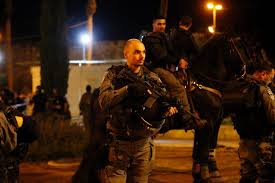 Two people were also arrested.
The occupation army initially released a statement saying that troops shot two people "after a number of Palestinians hurled rocks and Molotov cocktails at moving vehicles near the village of Beit Sira on route 443".
Meanwhile in the northern West Bank, Israeli forces early Tuesday demolished the home of a Palestinian who killed a US tourist and wounded several Israelis in a March stabbing rampage in Tel Aviv, an Israeli army spokeswoman told AFP.
"Overnight, in accordance with government directives, security forces demolished the home of Bashar Massala, in the village of Haja," she said.
Palestinians named the man as Bashar Madhala.
The spokeswoman said he carried out the March 8 seafront knife attacks which killed 29-year-old Texan Taylor Allen Force and wounded at least 10 Israelis as US Vice President Joe Biden arrived for a visit.
The occupied territories have been, since October 1, rocked by a wave of operations against Zionists in retaliation of the Israeli repressive measures against the Palestinians across the West Bank and especially in al-Quds.

Zionist settlers backed by occupation forces have been repeatedly storming the holy al-Aqsa Mosque, sparking Palestinian anger.

However the occupation forces have been brutally attacking the Palestinians under the pretext of staging stabbing attacks.

The Palestinian operations since the start of October have killed 32 Israelis, while the Israeli occupation forces killed more than 209 Palestinians.