South Korea, Japan and the United States held an unprecedented trilateral missile defense exercise on Tuesday.
South Korea, Japan and the United States held an unprecedented trilateral missile defense exercise on Tuesday, aimed at countering what they call the growing threat from nuclear-armed North Korea which denounced it as a "military provocation."
The drill in waters off Hawaii came less than a week after North Korea flight-tested a powerful new medium-range ballistic missile that leader Kim Jong-Un hailed as a strike threat to US military bases across the Pacific.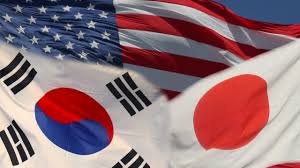 The trilateral exercise included a ballistic target tracking operation to test the Aegis anti-missile systems used by the United States and its two key Asian allies.
"While there were no missiles fired, all participants strengthened interoperability, communication channels, data collection, and capabilities assessments," the US Pacific Command said in a statement.
The drill was significant for the participation of both South Korea and Japan, who are still emerging from an extended diplomatic freeze that had undermined US efforts to present a united front against Pyongyang's nuclear weapons program.
As well as rehearsing responses to a North Korean missile attack, the drill "enhanced the already strong relationship of all three nations participating", said Vice Admiral Nora Tyson, commander of the US Third Fleet.
North Korea's foreign ministry condemned the drill as "another military provocation perpetrated by the US" and reiterated strategic willingness to carry out a "pre-emptive nuclear attack" if threatened.
The participation of all three countries revealed their "hegemonic scenario for disturbing regional peace and security", a ministry spokesman was quoted as saying by the official KCNA news agency.
Tuesday's drill also delivered a message of intent to China as Washington and Beijing continue to jostle for influence in Asia.
Pentagon chief Ashton Carter said last week the Musudan test underlined the need to strengthen missile defenses to protect US troops stationed in South Korea and Japan.
Seoul and Washington are currently in talks over the deployment of the US military's sophisticated Terminal High Altitude Area Defense System (THAAD) in South Korea -- a move staunchly opposed by China and Russia.